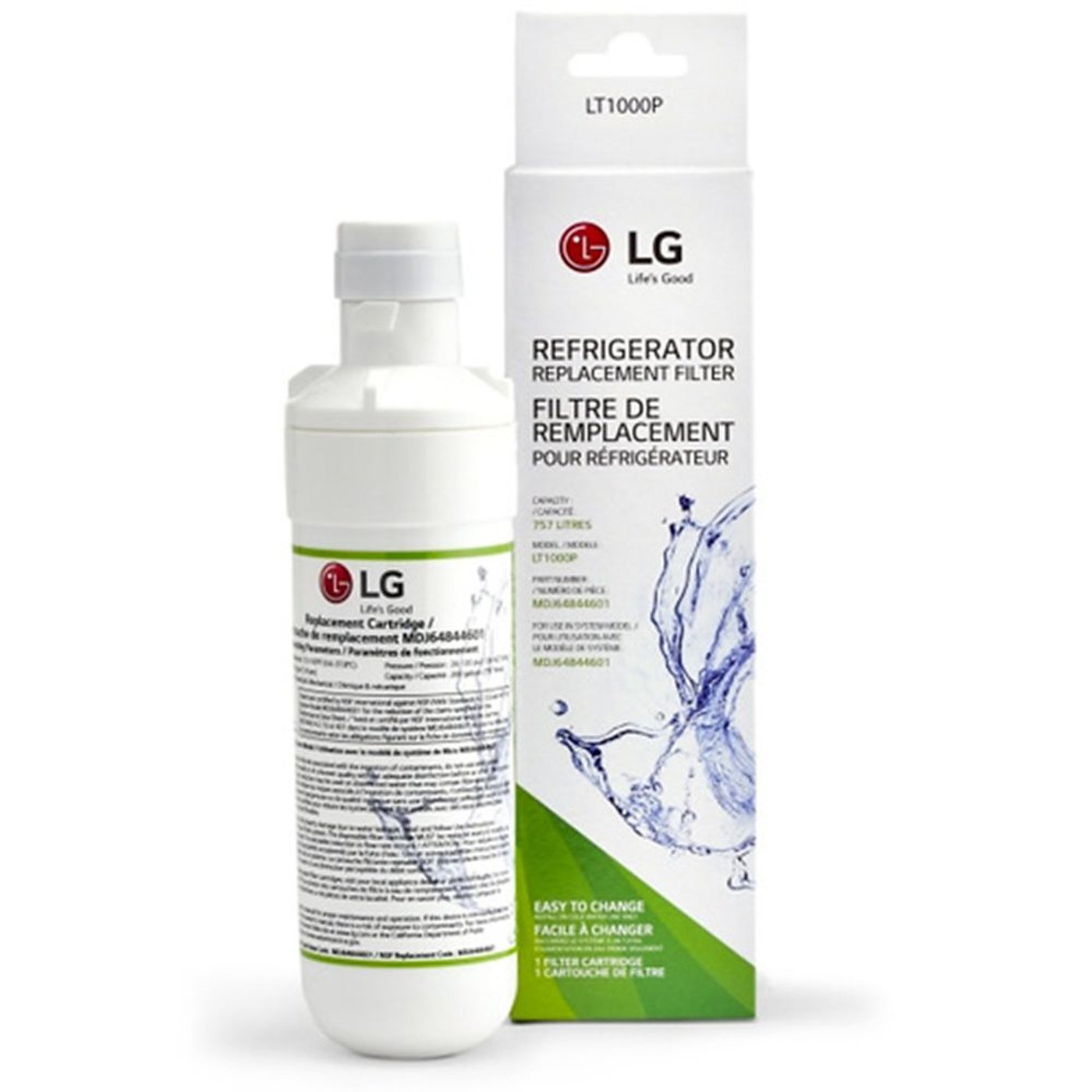 LG LT1000P Refrigerator Water Filter ADQ74793501
Replaced by #AGF80300704
?
Manufacturer substitution
This part replaces ADQ74793501. Substitute parts can look different from the original.
Part Information
LG water filter (part number AGF80300704) has NSF 42, 53 and 401 certifications; it reduces lead and other metals, chlorine taste and odor, volatile organic compounds (VOCs), and some pesticides and pharmaceuticals.
Water filter AGF80300704, also known as LT1000P, is for select LG side-by-side and bottom-freezer refrigerators.
Replace every 6 months, or more often if water flow slows noticeably.
Follow package instructions when you install this LG water filter.
Water filter AGF80300704 replaces earlier filter part number ADQ74793501.
Top models using the same part
Reviews
great filter
Works and does what it supposed to. i gave one star for the cost. I purchased one of these and then saw the exact same item name product number etc. all the same. so, i purchased a 4 pack for the cost of this single pack here @lg. the place i purchased at had a Asterix of sorts
Did you find this review helpful?
not so good
I need a replacement filter for ADQ747935, the one I received, has the wrong fitting at the head of it, and I need to return it
Did you find this review helpful?
Bad Design
Water filter purchased for expensive French door refrigerator DOES NOT FIT. So frustrating!
Unhappy Customer 99565, undisclosed
Did you find this review helpful?
Useless water filters
We have been dissatisfatisied with the taste of our water and ice since about 3 months after purchase. Replacing filters makes no difference. We paid for this expensive refrigerator freezer with a water filter, only to be forced into using a Brita pitcher and filter, which we use also to make ice in old-fashioned ice trays. The craft ice always tasted too terrible to use, and then the unit quit working--producing only only flay rectangle from the tray directly filling with water. The fixes on the website don't work.
Did you find this review helpful?
Help needed, change to filter?
This is my 9th water filter and normally I love the product, it serves the purpose I need. But this batch of filters I just got are shaped differently on the inside connection point. They do not click into place or tighten. The water is not testing as clean as it should at 107ppm of TDS, when my tap reads at 110ppm and my normally filtered water reads around 60ppm. Please hep LG!
Did you find this review helpful?
EASY PEESY
WHAT A GREAT PRODUCT. The LG products are great. The replacement filter was so easy to swap out.
Did you find this review helpful?
Order simplified
I purchased the filters to be delivered every six months and I am glad I did make the purchase. I Now I do not have to remember to reorder.
Scuba 2468, Jacksonville, Florida
Did you find this review helpful?
Easy to use!
I bought an LG fridge 2 yrs ago and I love it! The filters are great! Easy to replace and the city water doesn't have that funky taste. Wouldn't trade them for anything else!
Did you find this review helpful?