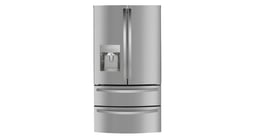 Official Samsung refrigerator parts
Efficient compressors and large storage areas make Samsung refrigerators a great choice for homes of all sizes. The wide selection of options available helps ensure all Samsung refrigerators owners can find the right control setups for their needs.
When your Samsung refrigerator isn't keeping foods fresh, you may need to replace parts to fix the problem. Sears PartsDirect has the Samsung replacement parts you need to fix any refrigerator failure. Find the parts you need on the Samsung refrigerator parts diagram for your model.