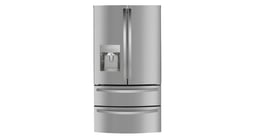 Official Hotpoint refrigerator parts
Hotpoint sells top-freezer and side-by-side refrigerators that fit in any type of kitchen space. The side-by-side models often include convenient features such as water and ice dispensers in the door. Many Hotpoint refrigerators have adjustable shelves to make food storage easier.
When your Hotpoint refrigerator isn't cooling and needs repair, Sears PartsDirect stands ready to give you a hand with troubleshooting and replacement parts to get your refrigerator cooling again.