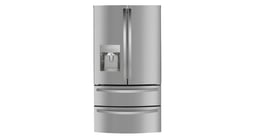 Official Electrolux refrigerator parts
Electrolux makes dependable refrigerators known for their refined style and exceptional performance. Electrolux refrigerators are available in many different sizes and styles, so you can pick the model that suits the needs of your kitchen.
When your Electrolux refrigerator quits keeping the meat fresh and the beverages cold, look to Sears PartsDirect for the repair parts you need to fix the problem.