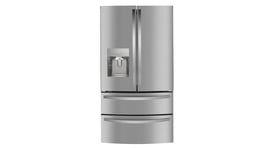 Frigidaire refrigerator repair and replacement parts
Frigidaire refrigerators are available in French door, side-by-side and top-freezer models so you can choose the type that fits your needs. Frigidaire refrigerators use innovative controls to help keep foods fresh and cold.
When your Frigidaire refrigerator isn't cooling quite right, it's time to diagnose the problem and order replacement parts. Sears PartsDirect has the Frigidaire parts you need to fix any refrigerator failure.
Top Categories
Kitchenaid Microwave Parts List
,
Mitsubishi Television Replacement Parts
,
Panasonic Microwave Replacement Parts
,
Sharp Microwave Repair Parts
,
Sharp Television Parts List
,
State Water Heater Parts List
,
Toshiba Television Replacement Parts
,
Craftsman Lathe Parts List
,
whirlpool dishwasher
,
GE Microwave Parts List
,
Whirlpool Refrigerator Parts List
,
Kitchenaid Cooktop Parts List
,
Kitchenaid Dishwasher Replacement Parts
,
Philips Television Parts List
,
Rca Television Parts List
,
Sony Television Parts List
,
Coleman Furnace Parts List
,
Emerson Television Parts List
,
Whirlpool Range Parts List
,
Whirlpool Wall Oven Parts List