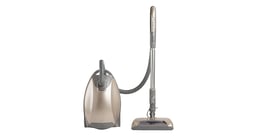 Official Bissell vacuum cleaner parts
Bissell vacuum cleaners are available in upright models and canister vacuums, so you can select the type of vacuum cleaner that best fits your needs. Bagless upright vacuum models made by Bissell offer the added convenience of not having to replace the vacuum bag. Powerful vacuum motors in Bissell vacuums make carpet cleaning a breeze.
When your Bissell vacuum quits working, depend on Sears PartsDirect to have the replacement parts you need to get your vacuum cleaner going again.