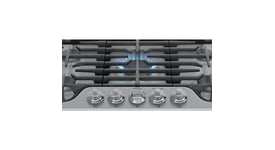 Whirlpool cooktop repair and replacement parts
Whirlpool manufactures a wide variety of sizes and types of cooktops to fit in any kitchen counter. Precision controls in Whirlpool cooktops help you regulate surface burner heat to achieve perfect cooking results.
When surface burners aren't heating properly on your Whirlpool cooktop, you'll likely need to replace parts. Sears PartsDirect is your best source for the Whirlpool repair parts you need to fix your cooktop.
Other Information
Replacement Parts for Kenmore Elite Refrigerator
,
parts list
,
Parts for Sears Vacuum
,
Kenmore Washer Replacement Parts
,
Samsung Dryer Parts List
,
Samsung Refrigerator Replacement Parts
,
Samsung Parts Lookup
,
LG Washer Replacement Parts
,
Frigidaire Parts
,
Kenmore Elite Replacement Parts
,
Kenmore Parts Replacement