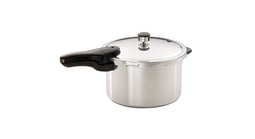 Official Presto pressure cooker parts
Presto builds dependable pressure cookers to meet your canning and cooking needs. Sturdy parts are used to construct Presto pressure cookers.
Even the sturdiest of parts can eventually break after years of using your pressure cooker. When that happens, Sears PartsDirect has the Presto replacement parts you need to fix the pressure cooker and get back to canning.