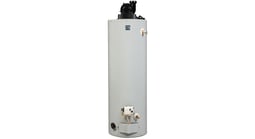 Official Kenmore water heater parts
Kenmore offers water heaters of all types and capacities, with tons of useful features. Kenmore water heaters are available in electric, hybrid, liquid propane, and natural gas powered models.
If your hot water heater stops heating, find the Kenmore water heater parts your need to fix the problem at Sears PartsDirect. We have thousands of genuine Kenmore replacement parts to fit your water heater.