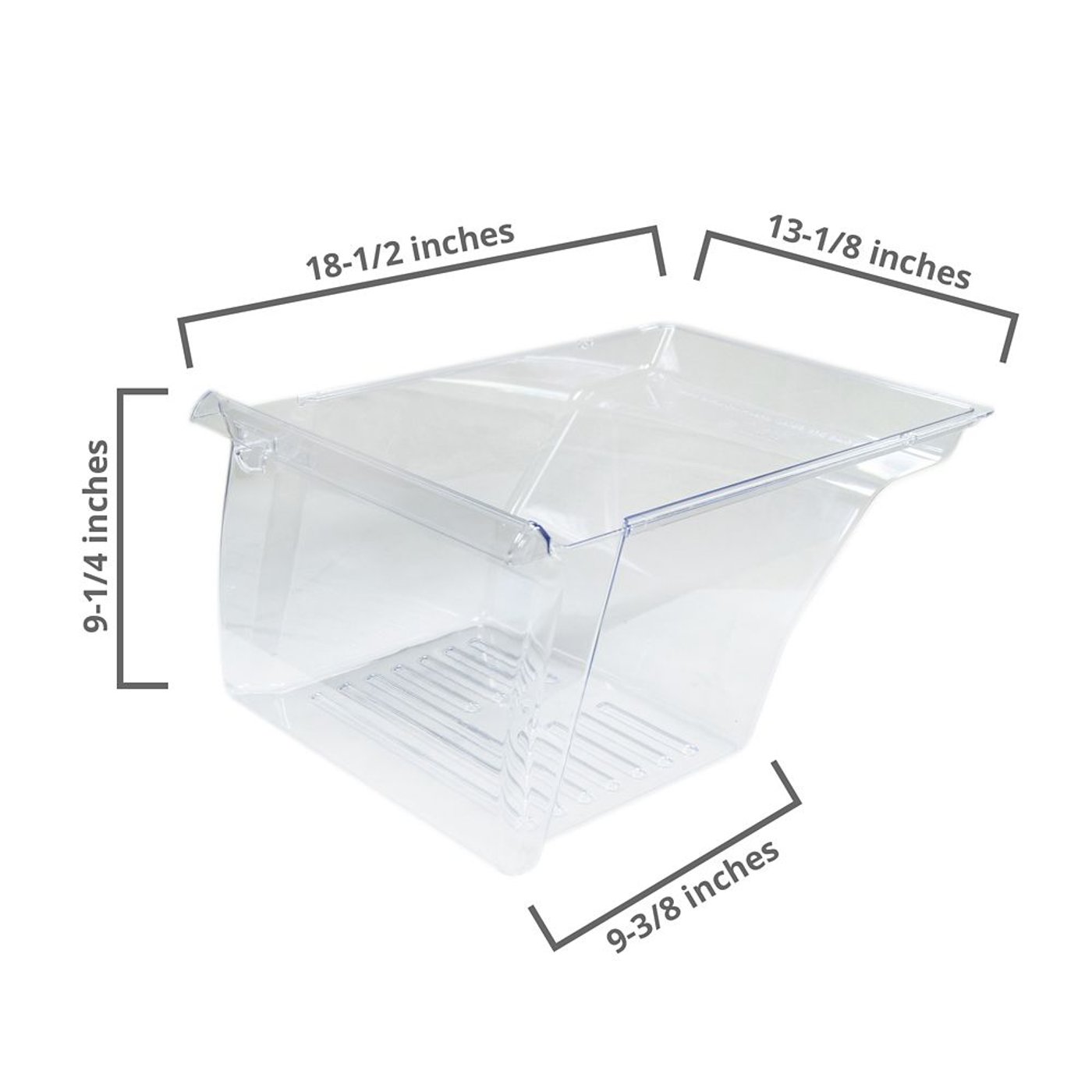 Refrigerator Crisper Pan 2179701
Replaced by #W10854037
?
Manufacturer substitution
This part replaces 2179701. Substitute parts can look different from the original.
Part Information
Crisper drawer W10854037 is an original equipment manufacturer (OEM) part that fits some top-freezer refrigerators in these series: Kenmore and Kenmore Elite 106; and Whirlpool ER2, ER9, ET1, ET2, ET8, ET9, G21X, G9IX, GR2, GR9, GT9, GT19, GT22, 2ET, 3ET, 4ET, 5ET, 6ET, 7ET, 8ET, 9ET, 8GT, 2VET, 3VET, 3XAR, 4VET, 5GR, 5VET, 7MET, 7RT, 7TT, 8ET, 8VET, 4YET, W1T, W2R and W9R.
It also fits some top-freezer refrigerators in these series: Amana A2RX, A9RX and ATB; Maytag MORX, MITX, MTB and MTF; KitchenAid KTHC, KTHD, KTRC, KTRD and KTRP; Roper RT16, RT17, RT18, RT20 and RT21; Bauknecht 3XKVN, Gladiator GARF19, Crosley CT18 and CT21, Estate TT18 and TT21, Inglis IMT18, IT21 and IKT19; and Kirkland 7ST21, ST18 and ST21.
Crisper drawer W10854037 stores fruits and vegetables at a humidity level that helps keep them fresh longer. Drawer W10854037 does not include the handle trim insert at the front of the drawer.
This drawer measures 13-1/8 inches wide and 18-1/2 inches deep.
Replaces original top-freezer refrigerator crisper drawer part numbers 2163670, 2166256, 2166931, 2166941, 2170954, 2173311, 2173320, 2175878, 2176395, 2176399, 2179701, 2190529, 2190601, 2193243, 2193246, 2193247, 2198960, 2200658, 2201023, 2201025, 2201027, 2218124, 2218124K, 2218130, 2218139, 2218141, 2218142 and WP2218124.
Top models using the same part