Model #WFW8400TW02 WHIRLPOOL Residential Washers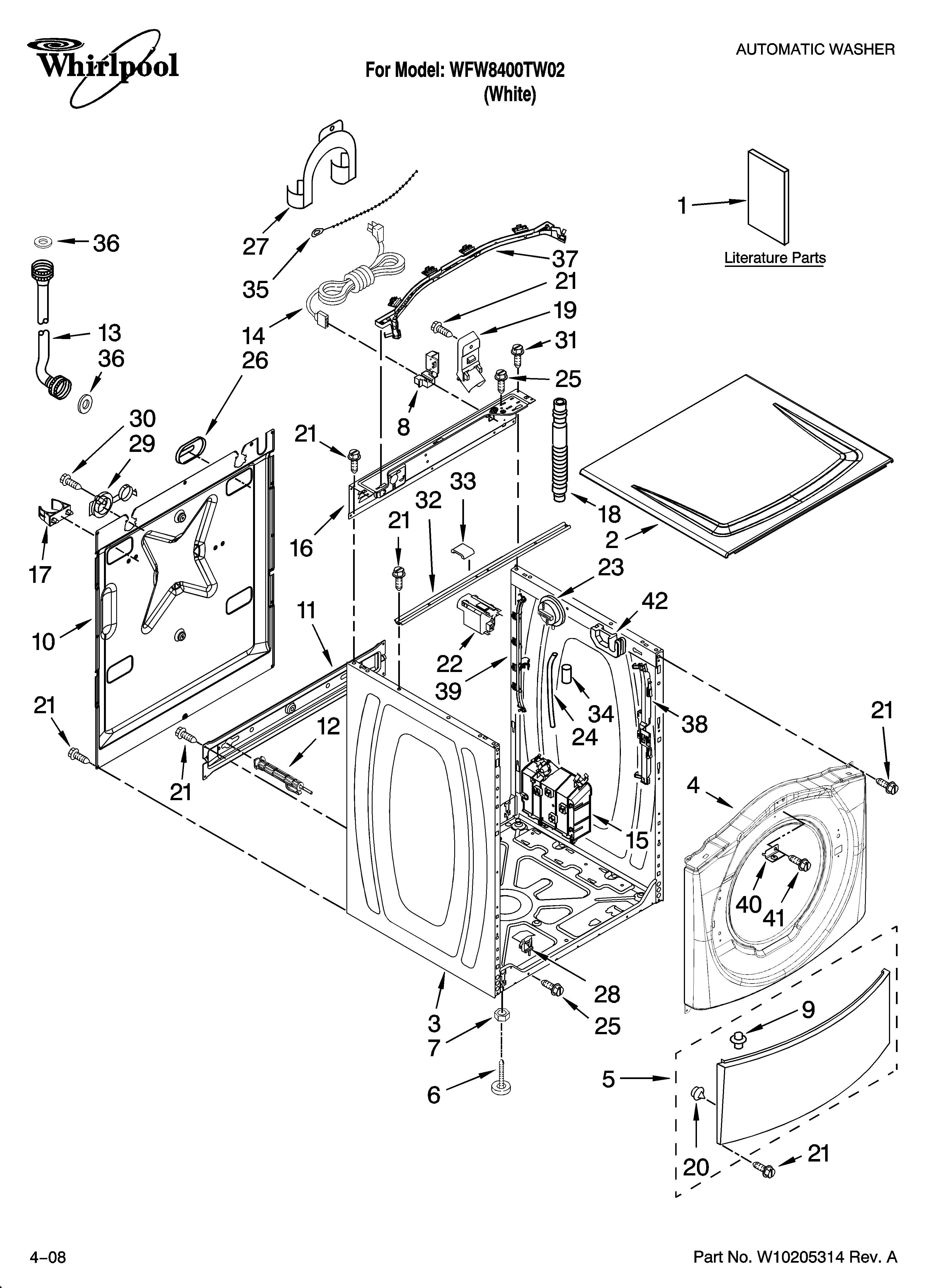 Error Codes
Error Code:
Condition:
Check/Repair:
Question and Answers
Q:
What are the spin speeds for my Whirlpool washer model WFW8400TW02?
A:
These are approximate spin speeds in revolutions per minute.
Low = 600 rpm.
Medium = 800 rpm.
High = 1100 rpm.
Read More
Landell -
Sears Technician
November 25, 2009
Q:
Why does my Whirlpool washer model WFW8400TW02 stop at drain/spin in the cycle (does not drain the water)?
A:
The washer will normally display and/or store an error code when it encounters a component problem and will not drain and spin. You can recall the error code by starting the diagnostic test shown below and checking the saved error codes. This will likely help you determine the cause for your washer failure. The fault codes are listed for this washer. The saved fault codes normally point you in the direction of your failure.
If the washer is not able to drain the water then it will not go into the high speed spin portion of the cycle. This will likely cause one of the fault codes listed in the image below. One of the following failures would prevent the washer from draining:
Clogged drain for the washer.
Restricted or kinked drain hose.
Lint or foreign objects in the large item filter of the drain pump.
Failed drain pump.
Wiring failure between the CCU (Central Control Unit or main control board) and the drain pump.
Failed CCU.
If you allow the diagnostic test program to continue after viewing the saved fault codes then you can determine whether the drain pump is running.
If you are just getting the F21 (Long Drain) fault code and the drain pump is running then I recommend that you follow these steps:
Unplug the washer.
Remove the bottom front service panel as shown in the bottom images below.
Reach up along the front panel of the washer and manually unlock the washer door by pulling down on the door lock mechanism until it clicks. (Your details seem to indicate that you have already been unlocking the washer door in this manner.)
Open the washer door and drain the water out of the washer using a wet/dry shop vacuum. NOTE: In some situations you can gravity drain the washer by pulling the drain hose out of the stand pipe (or sink) and draining the washer into a shallow pan placed on the floor.
Arrange a shallow pan and/or towels to catch residual water that will drain out of the washer when the large item filter is removed from the drain pump.
Remove the large item filter from the drain pump (see bottom images).
You may find debris or lint that is clogging the large item filter or the pump. If you do not find any restriction in this area then you will likely need to replace the drain pump.
These tips may help you resolve your washer problem. If you need more help, resubmit your question with additional details.
Read More
Lyle W -
Sears Technician
January 07, 2010
Recommended maintenance parts & accessories