Model #TEDS840PQ1 ESTATE Residential Dryer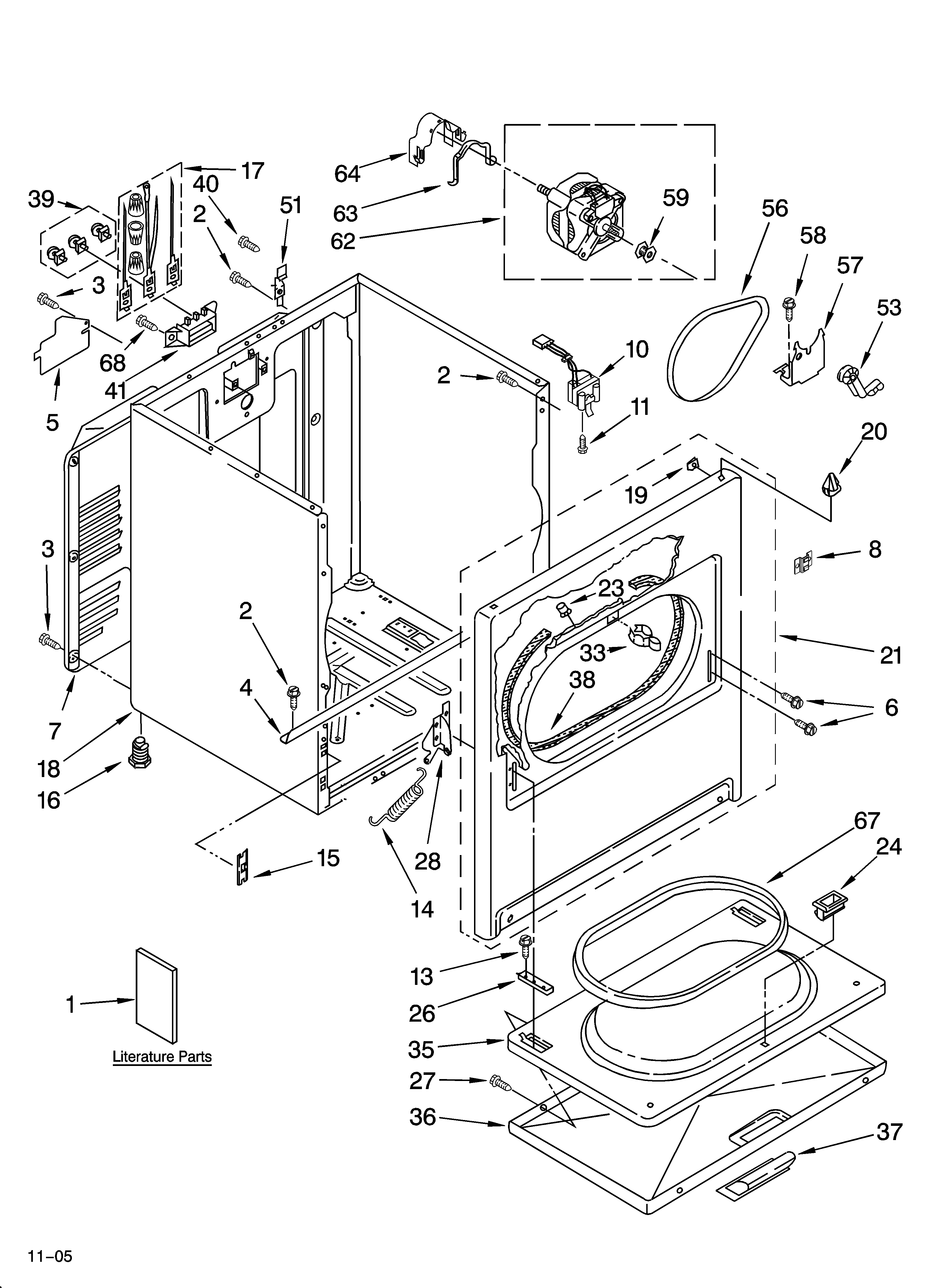 Question and Answers
Q:
My dryer will not start, it does click but, when I push the start button it will not turn on. Please help!
A:
Since the start relay is clicking, it is likely closing to close the circuit and send run voltage to the dryer motor. The wiring diagram for your dryer is shown in the first image below with the drive motor circuit traced in red. I recommend that you unplug the dryer and check the thermal fuse first. This component could be blown and would prevent the drive motor from getting voltage. To access the thermal fuse, remove the back dryer panel (with the dryer unplugged ). The location of the thermal fuse is shown in the second image. It should have blue wires attached to it. You can check this component for continuity with a volt/ohm meter. Remove one or both wires and measure the resistance across the lead of the fuse. You should measure near zero ohms of resistance (continuity). If you measure Ol (open load or infinite resistance) then the fuse is blown and will need to be replaced. You can verify that the dryer will run by connecting the wires that go to this fuse together with electrical tape (with the dryer still unplugged) and then reassembling the dryer and seeing if it will run when plugged back in. If it does, then replacing the thermal fuse (part 3392519) will fix your dryer problem. You can order this part from the Sears PartsDirect website. NOTE: Do not continue to run the dryer with this fuse bypassed. It is an important safety component that must be replaced. Also, check for a restriction or clog in the exhaust vent duct system that likely caused the thermal fuse to blow. An unresolved restriction in the vent system could cause the fuse to blow again shortly after replacing it.
If the thermal fuse is okay, you could have a bad start relay even though it is clicking. You could unplug the dryer and bypass the start relay in a similar manner to the thermal fuse to check this component. To access the start relay in the console, remove the screws on the back of the end caps of the console and you can then lift it off of the top panel (with the dryer still unplugged).
These tips may help you determine the cause of your dryer problem. A failed drive motor or a wiring failure in the circuit could also prevent the motor from running. If you need more help, resubmit your question with additional details.
If you do not feel confident repairing this problem yourself, then you can have it repaired at your home by a Sears technician. Here is a link for the website: Sears Home Services .
Read More
Lyle W -
Sears Technician
May 24, 2010
Recommended maintenance parts & accessories