Model #LGR7646JQ1 WHIRLPOOL Residential Dryer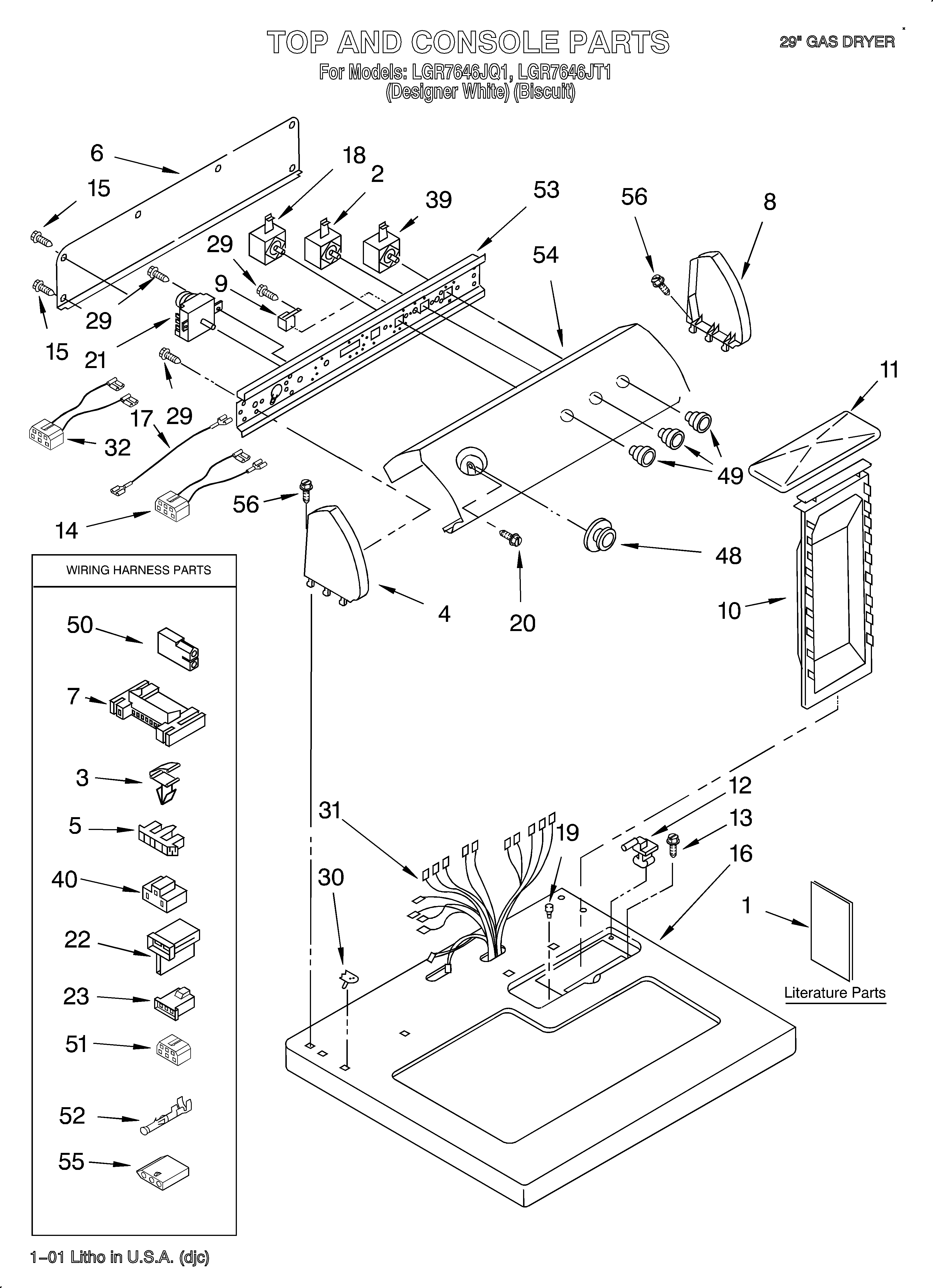 Error Codes
Error Code:
Condition:
Check/Repair:
Question and Answers
Q:
Why won't my Whirlpool dryer model LGR7646JQ1 heat?
A:
Since the igniter will not glow and is not getting voltage, I recommend that you check the thermal fuse. This component is on the blower housing on the back of the dryer (see diagram in the third image). Unplug the dryer before accessing this component. If you have a volt/ohm meter, you can check the continuity of the fuse by removing one wire (with the dryer unplugged) and measuring the resistance across the leads of the component. You should measure near zero ohms of resistance if the fuse is good. If it measure Ol (open load or infinite resistance) then the fuse is blown and will need to be replaced. If it is blown then you can verify that this is the component that was preventing the igniter from glowing by taping the wires going to this fuse together with electrical tape (with the dryer still unplugged) to bypass the fuse. Reassemble and test the dryer. If the igniter glows and the burner ignites properly then replacing this thermal fuse will fix your dryer problem. NOTE: Do not continue to run the dryer with this fuse bypassed. This safety component must be replaced to safely run the dryer. Also, check the exhaust vent duct system of the dryer for a clog or restriction. A restriction in the exhaust air flow could cause the thermal fuse to blow again shortly after it is replaced.
If the thermal fuse is okay, then you could have a bad operating thermostat, a failed timer contact or a wiring failure in the circuit. I provided a wiring diagram with the circuit through the igniter highlighted in the first image below. The second image explains the operation of the burner assembly.
These tips may help you determine the cause of your burner failure in the dryer. If you need more help, resubmit your question with additional details.
Read More
Lyle W -
Sears Technician
March 23, 2010