Model #9535 CROWN Pool Table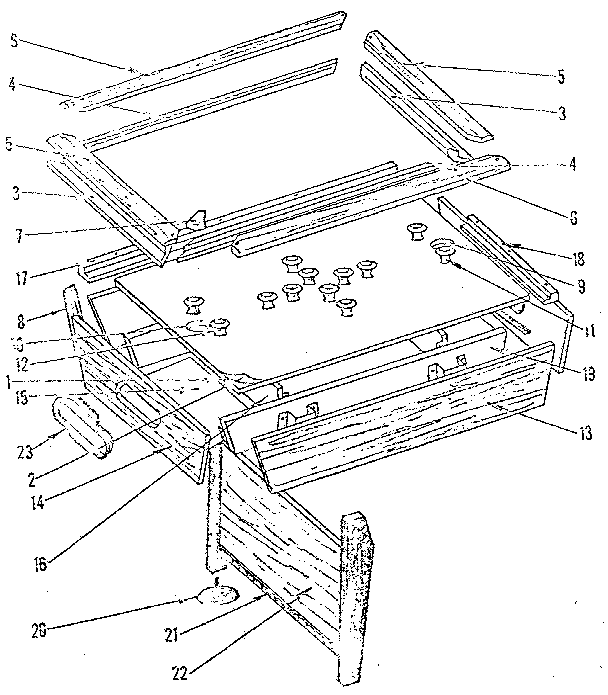 Question and Answers
A:
May be of use - Canning on Glass Stovetops and Canners for Glass and Ceramic Stoves - updated for 2013 -http://www.pickyourown.org/cannings4glasstop.htm
Read More
Anonymous -
August 20, 2013
A:
Thank you for your question on the canner for the ceramic to glass cook-top.
I assume you are talking about a water bath canner and not a pressure cooker?
I would rather see you use a gas turkey cooker burner and LP gas to can rather than the glass top range. The problem with this is that you have to use this equipment outside.
Here's what I have found out from the manufacturers:

The sensor does not allow the burner to maintain an even temperature high enough for canners to work safely. By fluctuating the temperature the bacteria is not eliminated in the canning process.
A flat-bottomed canner alone would not solve this problem for ceramic or glass top stoves. The sensor built in will let the heat fluctuate and it won't get hot enough to get the big canner full of water to a full boil. These canners can weigh as much if not more than 50 pounds.
Specific issues:
The pot must not be more than 1 inch wider that the heating element. Another problem is that canners that exceed the burner diameter by more than 1 inch can trap and reflect heat to surfaces of the stove thus for heating up the glass. Glass is not intended to get that hot, and thus crack the stove top or the canning pot can sink into the top. The damage can range from discoloration of white tops to actual burner damage to cracking of the glass tops to fusion of the metal to the glass top. FYI, the typical canner has a bottom diameter of 12 ¼ inches.
Auto-shutoffs prevent sufficient heating a canner shuts off during the process time, then the product will be under processed and cannot be salvaged as a canned food. This is more of a problem for the process to be safe. The process time must be continuous at the intended temperature, or microorganisms may survive. Also, if the pressure drops quickly, most likely liquid and food will be lost from the jar (it will spill over from the area of higher pressure inside the jar to the lower pressure now in the canner around the jar).
I found these stoves on Sears.com that can be used instead. (Click here).
If you have anymore questions please reply to this post.
Thank you for choosing Manage My Life.
Read More
dtova00 -
Sears Technician
August 20, 2013
See more answers
Q:
Residue between glass on self cleaning oven
A:
I can understand your concern over the residue in the glass of your oven. While you are waiting for your expert answer, I did some research on the unit. At this time, I was unable to locate information that would be helpful in regards to your question. Some of these questions that are asked will need specific research and will be answered by an expert with-in two business days but usually sooner.
Read More
A:
Thank you for choosing ManageMyLife.com and allowing us this opportunity to help you. Unfortunately this is a common issue with this type of appliance. We have the same issue with our oven glass and we are frustrated with this too. When moisture enters the heat vents on the front of the oven door from food that boils over or spills, or by cleaning solutions like Windex that accidentally enter these vents, we get what you are describing. When I researched this for myself, I realize that it will probably happen again. It is possible to clean but is labor intensive. It is not covered by warranty and can be performed by a technician. I do recommend having a technician tackle this job. You can schedule a Sears technician here; Sears Home Services . A 10% discount coupon is available when service is set online.
If you feel comfortable completing this project, the following instructions and the image below should get you through it. Make sure to take good notes on how you dismantled the door. You will probably need them. Take some pictures.
SAFETY NOTICE: Be sure to disconnect power to the appliance before performing any repairs. Be aware that there could be sharp edges inside the appliance that could cause cuts or other injuries to yourself or others. Wear appropriate hand protection when working around sharp metal parts.

First, remove the door. See image in link below. Have a thick towel handy to lay the door on. Make notes of order to follow in reassembly.
With the doors removed unscrew the two screws in each of the bottom glass stop. See the parts diagram of the door in the second image below. Note these are small sheet metal screws and you need to be careful when replacing to not strip out the hole. With the glass stops removed lift the top glass off. Ease it out of the top brackets it will come pretty easy.
The next layer can be removed the same way as the top, be gentle if it offers resistance only apply slight pressure to the glass.
The final layer was the hardest to remove. If the side rubber seals are cooked onto the glass it will feel as if something is holding the glass in place. It is only the rubber seal. Slide a paint scraper between the seal and then frame to free it ( use some silicone spray if it is really hard, you will need to reuse the seal). If it is still resistant unscrew the three upper glass brackets. (DO NOT UNSCREW THE TWO SCREWS THAT ARE BETWEEN THE CENTER AND SIDE BRACKETS). Continue to gently work the glass until it comes free.
Clean
Reassemble in reverse order. Refer to notes and replace each as it came apart. If the glass is difficult to seat into the upper brackets, try a wood yard stick between the layer to help align so it will slip into place.
This video is similar to the steps for similar ovens and may help guide you through the process.
If you have any follow-up questions, please continue our conversation on this existing thread.
Thanks again for choosing ManageMyLife.com
Read More
James -
Sears Technician
July 16, 2013
See more answers
Q:
How do I get rust out of the bottom of the oven?
A:
Rust stains can be inconvenient to look at and I will be happy to help. Usually you can either find touch up paint or buy the bottom part of the oven if its available. I am adding a link below in where you can find help in searching for either items. I hope this helps with your research while you wait for your expert response.
Read More
Joseph P. -
December 06, 2012
A:
Thanks for the question about rust in oven, I will be glad to assist, sorry to hear you are having this issue.
Once rust has started on metal it is has to be sanded away completely and the metal refinished. This would be difficult on the oven part so I would recommend replacing the part that is rusted. I have done some research and found the oven cavity bottom can be replaced in your model. (If that is where the rust is located)
I will attach a link to that oven cavity base here: panel

Thanks Ron H.
If you get to the point where you need to have a service technician diagnose and repair this failure, you can schedule service through this link: Sears Home Services .
Read More
Ron H -
Sears Technician
December 08, 2012
See more answers