Model #917388152 CRAFTSMAN Walk Behind Lawnmower, Gas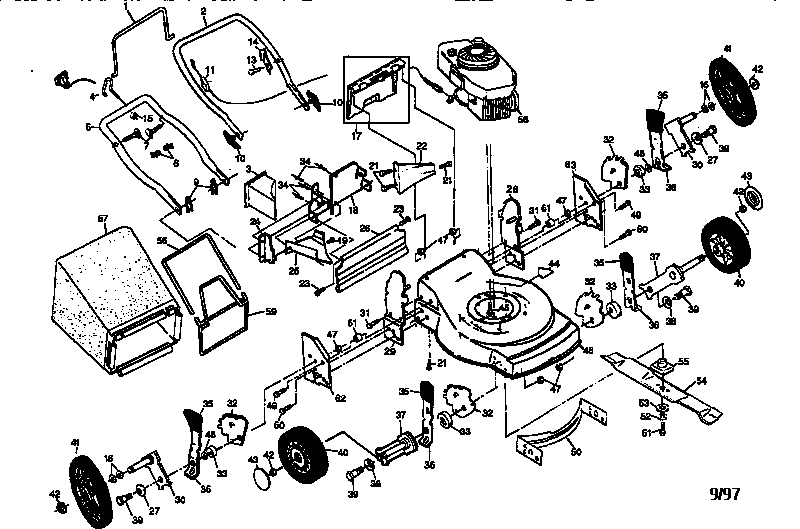 Question and Answers
Q:
How do you remove the flywheel on a mower?
A:
If you look at the parts illustrations in your Owner's Manual or at Sears PartsDirect you can get an idea how the components fit together.
Once you have the blower cover off see item 260 in the image below and the rewind starter item 390 you can remove the nut holding the flywheel down 93 and take the flywheel off.
The flywheel mounts on the tapered end of the crankshaft 30 with a slight interference fit so it can be difficult to remove. Sometimes a puller can fit on and work or tapping it lightly might get it off. You can also tap the end of the crankshaft where the nut 93 goes on as the light shock can release the flywheel. You might want to do that with the nut still on loosely and use minimal force to prevent damaging the crankshaft end.
Watch for the flywheel key 89 as it can create problems. If the key is bent or otherwise damaged or out of place it can make it more difficult to remove the flywheel and can also cause running issues as it will throw off the ignition timing.
Read More
HVAC & Fireplace Bucket -
Sears Technician
May 01, 2008
A:
If you use a puller you could damge the flywheel. we were tought in school to put your hand under the flywheel and tap on the end of the crankshaft with a ballpin hammer lightly not to hard so you don't damage the threads or mushrom the end of the crankshaft. I belive but not sure the nut maybe a left hand thread.
Read More
smallblockss -
May 01, 2008
See more answers
Recommended maintenance parts & accessories