Model #917258691 CRAFTSMAN Lawn, Tractor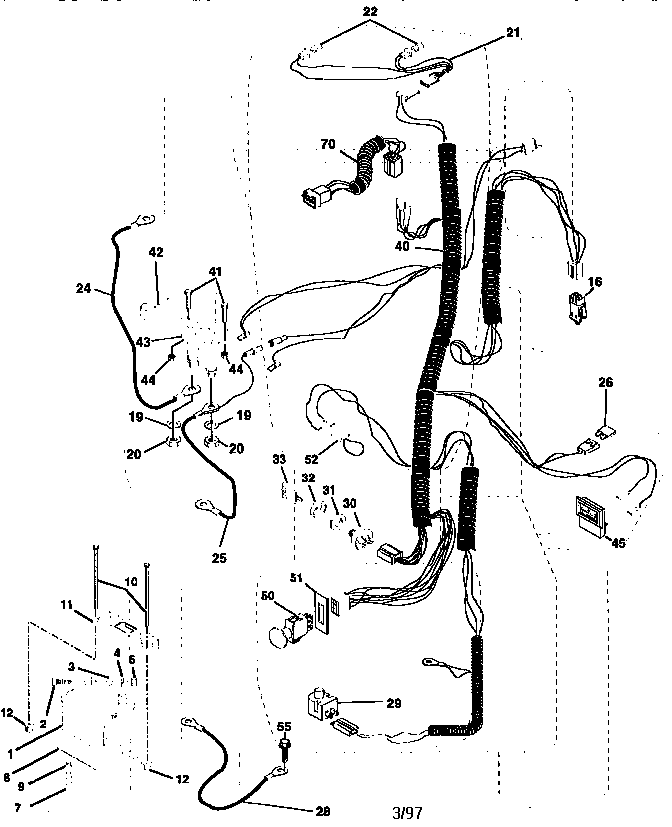 Question and Answers
Q:
Riding Mower No spark 917.258691
A:
Thank you for your inquiry on your Craftsman Tractor, Model: 917.258691. From reviewing the details on your model, the diode is in place to prevent voltage from passing back up into the ignition coils. If you remove the "kill" wires from the coils do you then have spark? If so the coils are good and the problem is with the kill circuit. I have seen the ignition switch short internally and kick voltage up the kill wire when you turn the key to off. That surge of full voltage could very well be enough to fry that diode.

Check the kill wire all the way back to the ignition switch (tracing wires = not fun) and make sure there are no bad spots in the wire. If the harness all looks good you may want to consider getting another ignition switch. You can connect a meter to the kill wire and then start the engine (if it will start with kill wire removed at coils) and then shut it off and see if you see a voltage spike on the meter.

Safety Warning: Before beginning the repair, disconnect the direct power supply to the tractor to prevent the risk of injury or any electrical shock.
If you don't feel comfortable or confident in this repair, then you can have it repaired at home by a sears technician. I have the included a link to the website: Sears Home Services or call 1-800-469-4663.
I hope this answered your question. Thank you for contacting SearsPartsDirect.com, and have yourself a wonderful day.
Read More
Gerry 93 -
Sears Technician
May 14, 2015
A:
Thanks, just worked on it again. Gets spark at least to start, dies after 30 seconds. Won't restart till time has elapsed. After 10 minutes will start then die after 30 seconds. I pulled fuel line off carb and fuel pumps good when turning over. No dirt in fuel... What's next step?
Read More
See more answers
Q:
is there a bagger system for this mower 917258691 Craftsman Tractor
A:
Thanks for the inquiry and for being a valued member.

The only applicable 46" bagger for this tractor is part number 24966. This bagger has since been discontinued and is no longer available. The 46" & 48" decks had issues with air flow to the baggers, which didn't operate effectively. You can try running an online search for the part number to see if there is one still in circulation online. That would be the best recommendation I can offer.

I hope this helps and thanks for using SearsPartsDirect.com. We appreciate your business.
Read More
Jeff Wallace Sr -
Sears Technician
April 07, 2015
Q:
Why is My Craftsman Lawn Tractor difficult to freewheel? 917258691 Craftsman Tractor
A:
Thank you for your question and I understand your concern.

First make sure the brake is releasing completely. If the brake is releasing properly, then I suspect the issue could be one of several bearings or bushings inside the transaxle preventing you from easily moving the mower when in by-pass mode. I stongly suggest taking the mower in for service. Tearing down a hydro transaxle is not a do it yourself repair.



Read More
Joey S -
Sears Technician
May 20, 2014
A:
Thanks for the reply Joey. As far as I can determine, the brake is fully released, based on the movement back/forth when mowing the grass. I never apply the brake after turning the mower off. At this point, I put the tractor in bypass mode by engaging the "Control Bypass Lever", and locking it in the freewheel position. So not ever applying the brakes after stopping the mower, I assume the brakes are properly released. Is their another way to check for this? As far as tearing down the hydro transaxle, I'm not so sure it would be financially feasible to take the tractor in for service, since it's over 17 years old. Basically I'm thinking that I don't want to start dumping a lot of money into it. I'm pretty sure I can do a hydro transaxle teardown/rebuild, but knowing which bearings/bushings to replace is another question. Any advice/help would be appreciated.
Read More
See more answers