Model #91725371 CRAFTSMAN Lawn, Tractor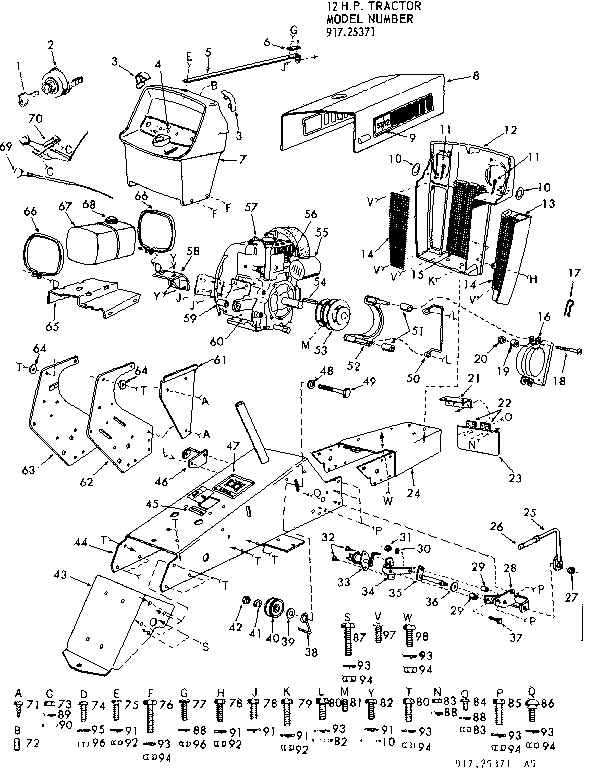 Question and Answers
Q:
Lawn Tractor Model No 917.25371, Engine Model No 143.622022
A:
I am understanding that you are having issues with the lawn tractor of it not starting. I have found some information that might help you understand what can be causing the problem. I hope that you find the link helpful and also useful as well.
Read More
A:
If the engine has a solid state ignition, it does not have points. The solid state is behind (under) the flywheel. If you have no spark it could be that coil has failed. The bad part about that is that the coil is no longer in production and you'd be close to working a miracle to locate one. I don't show any kind of an alternative to the coil from the manufacturer. That doesn't mean there isn't one, that just means that they did not have one they offered. Tecumseh (engine manufacturer) is no longer in the engine business so I wouldn't even know who to contact about a coil for this thing.
Do check your kill wire from the ignition switch all the way up to the coil to make sure there are no shorts causing the machine not to spark.
If it does look to be the coil and you cannot locate one you may consider looking for a newer more modern replacement engine. I feel quite certain that Kohler makes one that will bolt up and do what you need it to do. It's a matter of what condition the tractor is in. If it's well taken care of, I would certainly consider repowering with newer engine as they just do not make classic tractors like that anymore.
Thank you for using Manage My Life!
Read More
XX Wade_ -
Sears Technician
March 08, 2011
See more answers
Q:
Tune up 12 HP Tractor Model No 917.25371, Engine Model No 143622022
A:
I understand that you are trying to do a tune up on your tractor. I have taken some time to research your question here on the Manage My Life website and I noticed that someone else had asked a similar question with a posted response from an expert. I attached the link below for you to view. I hope the link that I provided is helpful.
Read More
Alina F. -
February 10, 2011
A:
The model engine shows to have a solid state ignition coil and the air gap on it (to the flywheel) should be between .006 and .010.
I show this coil to no longer be in production. If the coil is bad you may have to search around the internet and maybe some local shops to try and track one down. The part number for it was 610759.
As far as doing a tune up goes there really isn't much to it besides new spark plug, change of oil, and filters. If you really wanted to go the extra mile you could pull the head and clean the carbon out but that sort of thing is usually not necessary as fuels anymore burn clean(er) than 20 years ago and typically will burn a lot of that stuff out of the engine on its own. On an older engine like this, I do make a habit of running some Marvel oil (or any oil for that matter) down the throat of the carburetor to benefit the valves. It may be a useless habit, but I was taught that when I started working on engines for a living and the man that taught me that never once had problems with his own engines (valve related).
Thank you for using Manage My Life!
Read More
XX Wade_ -
Sears Technician
February 11, 2011
See more answers