Model #900271040 CRAFTSMAN Drill Driver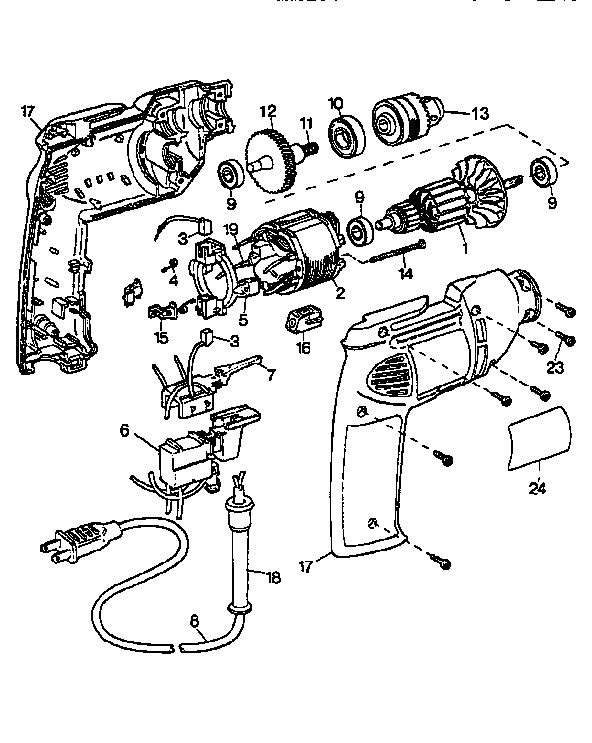 Question and Answers
Q:
How to remove the chuck on a Craftsman, model 900.271040, electric drill. There is no screw in the chuck.
A:
The parts diagram shows the chuck is mounted to a 3/8 inch shaft with threads. You will need to lock the rotor and unscrew the chuck. We don't have information if the threads are right handed or left.
You might need to separate the case and hold the rotor by hand to unscrew the chuck.
Read More
Jimmy K -
Sears Technician
July 15, 2009
A:
I replaced mine. The threads are standard (right-tight) threads. I used a torx-head bit to disassemble the drill housing (comes apart in two halves). I lifted the chuck out and used a pair of pipe wrenches to unscrew the chuck from the drive shaft. I used an old sock to try to protect the largest gear (which I clamped in one wrench), and grabbed the textured chuck body with the other. Once off, I realized that the new chuck would need a spacer to prevent it rubbing on the plastic housing when tight. A standard washer with a 3/8" hole is slightly too large in diameter. I placed two in a drill jig to reduce the diameter with sandpaper. Two washers, then the drill chuck (mine was a 10mm 3/8-24 mount, 3/8" cap.)
Read More
See more answers