Model #831285760 LIFESTYLER Stepper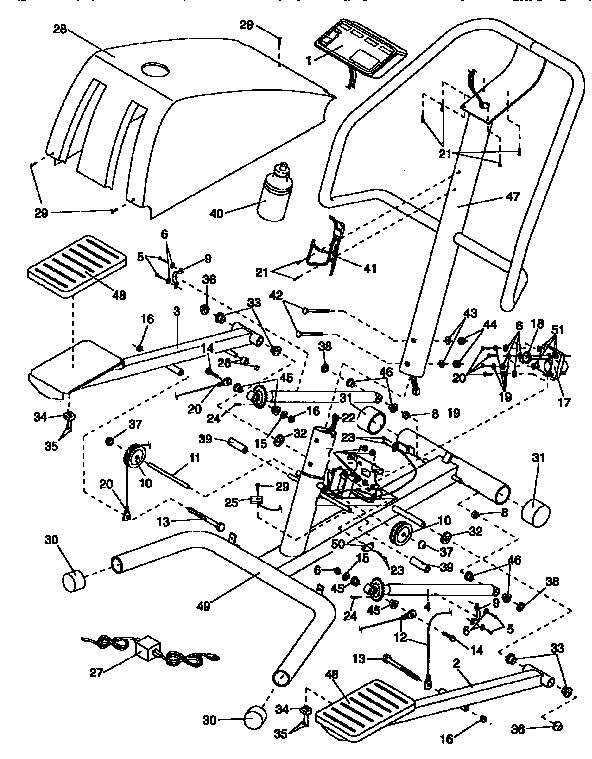 Question and Answers
Q:
What is the voltage of the power cord/transformer on a Stepper?
A:
That particular model has an input of 12 volts DC from the transformer in the power cord.
The power cord is available if yours is damaged or not working correctly for some reason and you can find it, and other parts or the manual, online by using the full Sears model number of 831285760 and following the steps below.
- To view a parts diagram or list online -
Go to www.Sears.com and select PARTS or go directly to www3.Sears.com
Type in your model number on the parts page, select GO and then select your model from the search results. Choose either the View Diagram or the View Parts List option for the various Product Sections to open the diagrams or parts list for that section.
This will not show any specific repair or provide instructions but these are the same lists and exploded-view type diagrams technicians use to aid in repairs and with careful review you should see the parts involved and roughly how they fit and work together.
- To view the Owner's Manual online -
Go to the Home page of Manage My Home and hold your mouse over the square labeled HOME in the upper left of the page. A drop-down menu will appear, choose the option Products and manuals and then enter the following information in the search option boxes that come up:
Type of Product Stepper
Brand LIFESTYLER
Model no. 831285760
Select Find manuals at the bottom of the page to search for manuals. Choose the blue Owner's manual link for your product from the search results and it will open the manual for viewing online. You can save a copy of the manual to your Home Profile or, on most computer systems, download or print the manual while you are viewing it.
If the manual can't be viewed or found for some reason, please call the Manage My Home Member Services Team at 1-800-803-6775, between 8 a.m. and 8 p.m. Central Time. They will be more than happy to help with any issues regarding viewing the manual.
Read More
HVAC & Fireplace Bucket -
Sears Technician
April 04, 2008
Top Parts
Part: 103735

$ 4.58

In Stock