Model #79573252300 KENMORE Top-Mount Refrigerator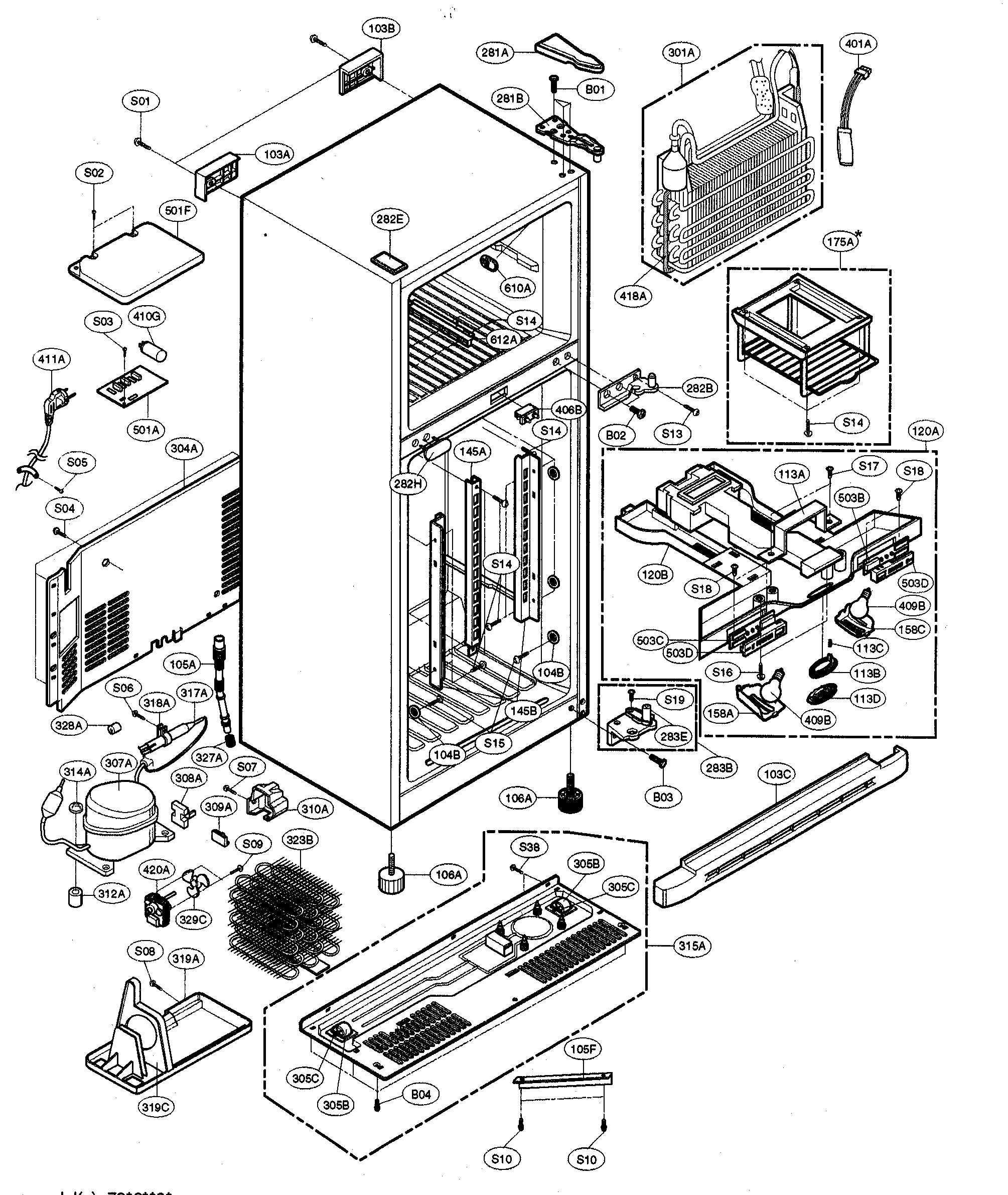 Error Codes
Error Code:
Condition:
Check/Repair:
Question and Answers
Q:
How come food in my Kenmore refrigerator freezes?
A:
In reference to your Kenmore refrigerator, model number 795.73252300;
The motor/fan can run too much due to any of the following :
Refrigerator is new and Energy Star rated:

It's normal for a brand new refrigerator to run longer on initial startup to allow the temperature to stabilize which usually takes up to 24 hours. The new energy efficient refrigerators are designed to run more (up to 80% of the time) but use less energy due to smaller, more efficient compressors, motors and high-tech defrost systems. See the owner's manual for more information.

A large amount of food just added:

Adding a large amount of food causes the refrigerator to run more due to the added food load, as well as the time the doors were opened during loading.

Temperature settings adjusted too cold:

If controls are set too high it causes the unit to run longer. See use and care guide for more detailed information.

Doors being opened frequently or for long periods:

Each time the doors are opened, the cold air inside is exchanged with the warm humid room air which causes the unit to run longer. Open doors as seldom as possible and close them promptly.

Warm humid weather:

Warm humid weather causes the unit to run longer to maintain normal interior temperatures and humidity levels. Run household air conditioner if possible.

Condenser coil is dirty:

When the condenser coil becomes clogged with dust and / or pet hair (if applicable), the unit has to run longer to compensate. Clean condenser coil at least twice per year or more often as needed. See owner's manual for instructions on how to clean condenser coils
While an error code is displayed, the test mode cannot be activated even if the button is pushed
Read More
Angela R. - Personal Solutions Manager -
Sears Technician
October 29, 2009
A:
Marcia -
November 29, 2012
See more answers
Q:
Kenmore freezer frosting up
A:
The freezer frosting up can be frustrating. I found some information for you that I am really hoping will be able to help you. I am adding the link below to help you with your question while you wait for your expert response. it may take 24-48 hours. I do hope that everything works out with the freezer.
Read More
A:
Hi,
Thank you for your question. It is concerning when the refrigerator is not functioning correctly. It is tricky looking up parts on some models of refrigerators, unless you have worked on them and are familiar with the tricks and words use for the parts. In your refrigerators case, the controller is the defrost bimetal. Here is the link, Kenmore Refrigerator Model 795.73252300 controller .
If the defrost heat is the problem the heater comes as part of the evaporator coils and I would recommend you have a Sears Home Services technician out to do this repair as the old heater can be replace and the new heater installed on the old coils, but it is very tricky and difficult and if a suction or discharge line is damaged in the exchange you will have a much greater repair to be made, fixing the sealed system.

I hope this is helpful. If I may be of further assistance please include more details in a reply to this post.
Read More
Bill__W -
Sears Technician
August 11, 2012
See more answers
Q:
How come my refrigerator section keeps freezing?
A:
From the description of your problem, this sounds like the main board is not working. The test button on the board puts the system into a diagnostic mode. In diagnostic, different functions can be checked. You should not have to unplug the unit to get it back on, when it's turned off, which would indicate a board problem and there is no reset switch. The only type of reset is to unplug and reconnect it. The board number is 6871JB1185B and is available at SearsPartsDirect . If you need more assistance, you can resubmit your question with more details.
Read More
Scott D -
Sears Technician
October 30, 2009