Model #6045 KENMORE Garbage disposal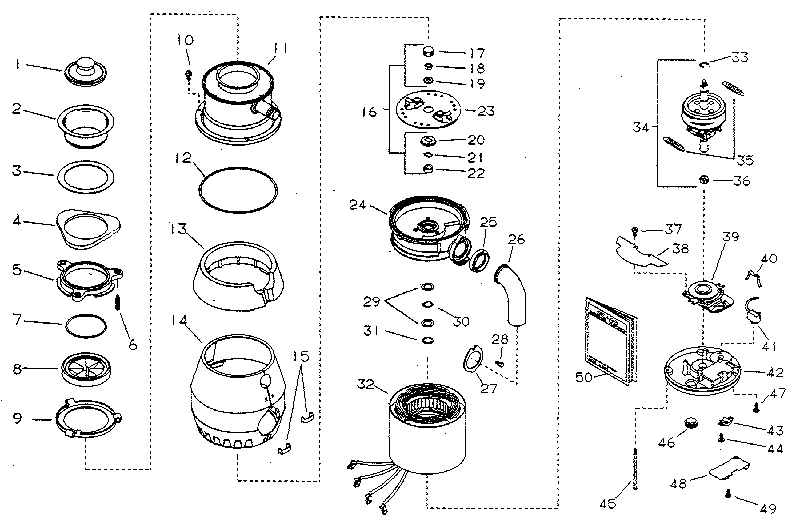 Question and Answers
Q:
Gargabe disposal, model # 6045 not working. The blades turn freely. The reset bottom has been pushed. It just buzzes when turned on. Please help. Thank you
A:
Hello, Garbage disposals can be frustrating I am constantly having problems with my garbage disposal. While your waiting on an expert response, I found a link that may provide you with some help and tips to maintain your garbage disposal. I have provided the link below. I hope this helps!
Read More
Jacqueline S -
July 05, 2010
A:
Generally speaking when a garbage disposal will hum and not start indicates it's jammed. When you said that the cutting blades turn freely I assume you mean the two blades will pivot on the cutting disc but will the disc that the blades are mounted on rotate? Use the wrench the disposal came with if you have it you can use a 1/4 inch Allen wrench and insert it up into the bottom of the disposal and see if you can manually turn the cutting disc/motor. If you are able to rotate the motor then the failure is likely the "start switch assembly" located under the bottom cover of the motor or a failed stator.
I recommend replacing the disposal instead of having it repaired. You can view and shop for new disposals at Sears.com .
Read More
Joey S -
Sears Technician
July 08, 2010
See more answers
Q:
My disposal is jammed, how do I remove my Kenmore 3/4hp disposer from my sink?
A:
You shouldn't have to remove the disposal if it's just jammed. If you have the 1/4 inch little wrenchette the disposal came with, place it in the center of the very bottom of the disposal and use it to manually rotate the disposal until it turns freely. See image below for complete instructions on freeing a jam. Then with the disposal still turned off, using a flashlight look down into the disposal and remove the object causing the cutting blade to jam. Remove your hand and turn the water on and then see if the disposal will run. If continues to hum and not run and there is nothing stuck preventing the disposal from running, it may have failed reversing switch or a bad stator. If it no longer hums, locate the overload switch button located on the bottom of the disposal and push it to reset the overload.
Read More
Joey S -
Sears Technician
November 17, 2009