Model #59667275790 KENMORE Bottom-Mount Refrigerator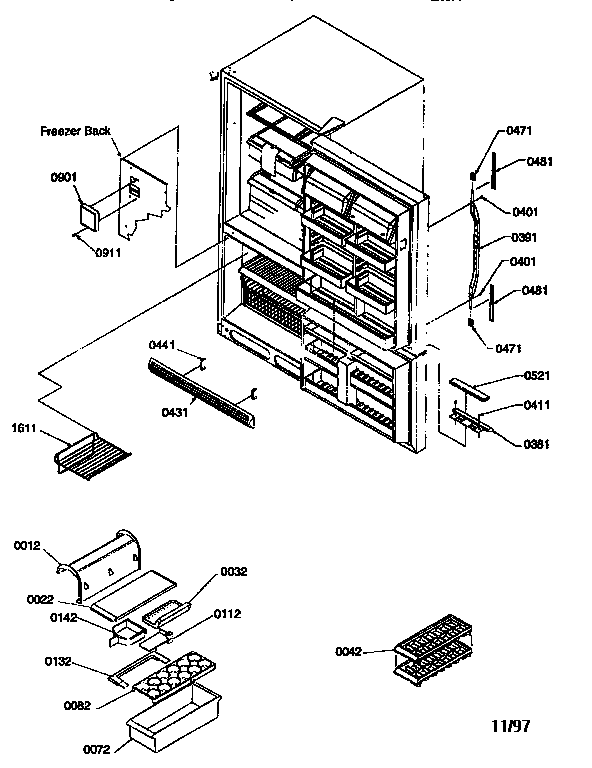 Error Codes
Error Code:
Condition:
Check/Repair:
Question and Answers
A:
I understand the importance of having a properly working refrigerator. While you are waiting for an expert to respond, I have attached some helpful links below that may provide information to assist you with your question. I hope the link that I provided is helpful. Happy holidays!
Read More
Alina F. -
December 13, 2011
A:
The defrost system problem in your refrigerator could be caused by a bad defrost bi-metal thermostat (part 10442411). The part number that you provided in your details (R0131577) is for the defrost timer (shown in the image below). That component could also prevent the unit from defrosting if it is bad. The evaporator heater (part 10428409) could also be at fault. Here is a link for a repair video that shows how those components work in the defrost system of a refrigerator:
Refrigerator Not Cooling Repair
That video shows a top mount and side-by-side refrigerator but the defrost system works the same in your bottom mount refrigerator. If that timer does not advance properly into the defrost mode, then the heater will never turn on and defrost the evaporator. If the bi-metal is "open" then the voltage will never reach the evaporator heater so it won't heat in the defrost mode. If the heater is bad, it won't be able to melt off the frost from the evaporator. A wiring failure in that circuit could also cause your problem.
A common method of diagnosing this system is to manually advance that defrost timer to see if the evaporator heater works. If the compressor is not running, you can leave the doors of the refrigerator open to start the compressor. Manually advance the defrost timer slowly until the compressor shuts off. The system should then be in the defrost mode. You should be able to tell whether that heater under that evaporator is working. You would hear some ticking, sizzling and dripping from the evaporator compartment in the freezer when that heater is on. If that heater works but the timer does not advance through that defrost mode so that the compressor restarts, then you will need to unplug the refrigerator and install that part (R0131577) that you ordered. Your symptoms in that situation indicate that you have a bad defrost timer.
If the heater does not work, then you can unplug the refrigerator and bypass the bi-metal thermostat by connecting the wires that go to that component and taping them up with electrical tape so that they don't short out of the metal in the cabinet. Reply to this thread if you need more help performing this procedure . If the heater works in the defrost mode with that bi-metal thermostat bypassed then you will need to replace that defrost bi-metal thermostat (part 10442411). If the heater does not work, you can check the continuity of the heater using a volt/ohm meter. Here is a brief repair video that shows how to test that defrost heater: Defrost Heater Testing . If that heater is bad, it will need to be replaced.
These tips may help you diagnose and repair this defrost system failure in your refrigerator. If you need more help, reply with additional details based on the above information and testing.
If you get to a point where you need to have a technician repair this failure, you can schedule one through this link: Sears Home Services .
Read More
Lyle W -
Sears Technician
December 15, 2011
See more answers
Q:
refrigerator coils freeze
A:
The Refrigerator is one of the most important appliances in the home and by far a must need. So I am understanding your concern over the issue that is currently happening. I have researched your issue on this website and came across a question that is similar to yours. The expert provides further detailed information that might enlighten you.
Read More
Priscilla V -
July 27, 2011
A:
Thank you for your question. This does appear to be a defrost problem. A good check for this will be to manually advance the defrost timer. Remove the bottom toe grill and the timer (# 342 in picture) will be located in right front corner. Turn the knob on the timer slowly until it clicks and the unit quits running. Now open the freezer door and in a few minutes if you can hear a sizzling sound it will mean the heater is working. In this case, the timer # R0131577 will need to be replaced. If nothing happens, some voltage and resistance checks will need to be made. If you have a meter and feel confident that you can safely make these checks, please reply to this thread and I will be glad to assist you further. Thank you for using Manage My Life.
If you do not feel confident repairing this problem yourself, then you can have it repaired at your home by a Sears technician. Here is a link for the website: Sears Home Services .
Read More
Scott D -
Sears Technician
July 29, 2011
See more answers