Model #358797030 CRAFTSMAN Blower, Gas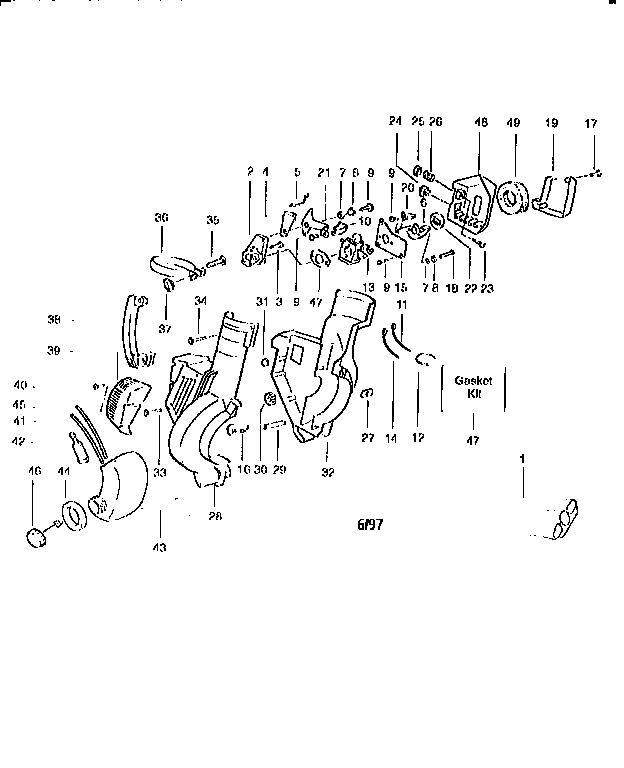 Question and Answers
Q:
I have a part that is not on the diagram. It is a plate adjacent to the starter 358797030 Craftsman Starter/flywheel problem - gas blower
A:
Thank you for choosing SearsPartsDirect.com. I will be more then happy to assist you. Looking at the information, I haven found anything matching you description. Can you explain a little future into detail. Look forward to speaking with you again.
Read More
Samantha A -
Sears Technician
May 14, 2014
A:
this piece is shaped like the lid for a cold drink cup; flat on one side and a turned up edge on the other. OD is about three inches more or less. there is one opening in the turned up part, about 1//4 inch wide and appears something has been rubbing there like the rope? or the spring? It has a hole in the center, about 3/4 inches wide, circular. Color is grey, like steel or aluminum. It has no rust. It came off of the shaft #16, between #5 and #6, I believe. It shocked me, because it was not supposed to be there, according to the pictorial parts list.
Read More
See more answers
Q:
pls provide step by step direction to remove housing on blower model # 358797030 took 10 nbolts out can not access inside
A:
When it comes to working on an appliance it can be rather challenging. I have done some research on your model on the Manage My Life website and have located the owners manual to your model. While you are waiting for a detailed reply from an expert I have provided the link below. Hope this helps!
Read More
Priscilla V -
June 05, 2012
A:
Hello Wayne,

Taking the blower apart is complicated, and there are no service guides available. One thing I think will help you as you go through the process is to have a digital camera ready to take pictures at each step. You can refer to these when you reassemble the unit.

The fuel tank, carburetor and lines are all contained within the handle housing. I have included a diagram attached to this reply. All the screws are Torx-type screws, and you'll need a Torx bit set or Torx drivers for each size screw. If you don't have Torx bits, they are available at Sears, Sears.com, or any other local hardware store. You may need new fuel lines, and you may also need to replace the air filter and carburetor gasket. I suggest you disassemble the unit, make a note of all the parts you need, and then order them. Whether or not you want to reassemble the unit while you're waiting is up to you and your confidence in your memory. That's where the camera comes in :-) All of the parts are available at Sears Parts Direct

Once you're ready to disassemble the unit, The air filter, carburetor and outer cover will need to removed. Before tearing this unit down, obtain safety gear, such as goggles and fuel resistant gloves. Drain any remaining fuel in the unit into an approved container for later disposal and remove the spark plug wire.

Using a torx driver, remove the air filter cover from the carburetor.

Remove the two screws that hold the carburetor and housing onto the unit next .

Remove the muffler cover, the screw may be tight, be careful not to strip or break it. From the muffler side of the unit there are a lot of screws around the perimeter of the blower. As you remove the screws, the housing will start to come apart. Use caution to not force the housing apart, if it is stuck, look for screws!

One major mistake people make is not noticing that the engine is suspended in the housing by black rubber washers. Do not lose these and be sure to note how they are installed! Also take note of how the lower cover is attached and it's spring loacation.

Use caution near the handle and take note of the linkage or cable routing for the throttle. Definitely take a picture here. After all of the screws are out of the muffler side, carefully turn the unit over and remove the blower cover from the carburetor side.

Re-assembly is reverse of removal. Let me know if you would like further assistance.

This is an intricate job, and you may prefer to have it repaired by a Sears technician. Here is a link that will provide the nearest drop-off locations: Sears Home Services .

You can reply back to let me know what you find, or if you have questions about which parts do need replacement. I am happy to help!

Jerry C
Read More
Jerry C -
Sears Technician
June 06, 2012
See more answers
Recommended maintenance parts & accessories