Model #31511351 CRAFTSMAN Drill-Misc Craftsman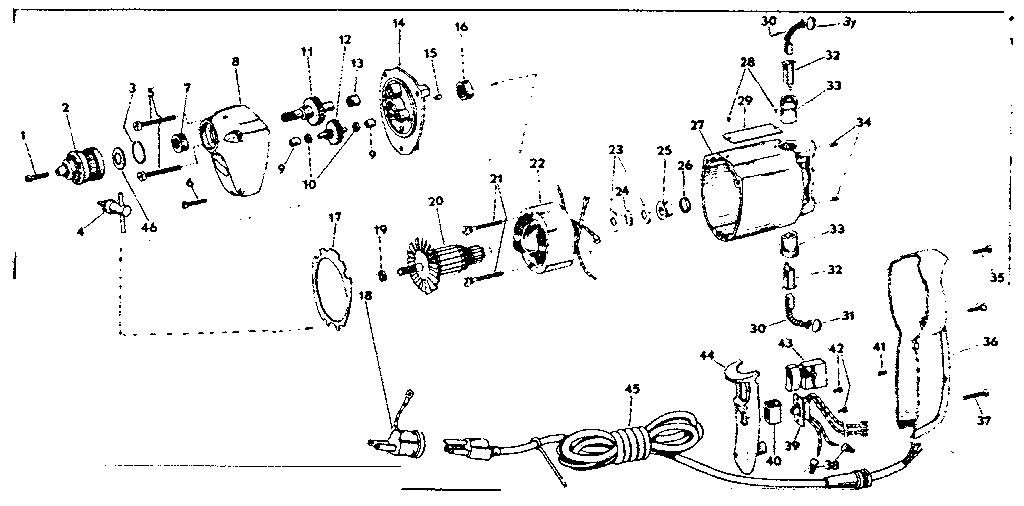 Question and Answers
Q:
I purchased the replacement switch for a Craftsman drill model 31511351. The new switch is completely different than the original. There is no indication how to wire it. The switch also says 7.25-1...
A:
It sounds like you might have been shipped the wrong switch. If the wiring for the switch is different, an instruction sheet should have been the package.
Call Sears Parts Direct at 1-800-252-1698 and ask them to send you another switch.
Read More
Jimmy K -
Sears Technician
January 15, 2010
Q:
To: MMH Expert_JK: Could you send me the schematic for the new switch p/n: 615930-003?
A:
The drill is made for Sears by The Ryobi Company. The drill is a Craftsman and is made to Sears specifications. Ryobi does not have any information on the drill or the parts inside it.
You should have a black and a white wire coming from the power cord, and a black and a white wire coming from the motor. The 2 white wires normally are tied together with a wire nut. The 2 black wires connect to the terminals of the switch. It doesn't matter which wire goes where. When you press the trigger on the switch, it makes contact between the 2 black wires to supply voltage to the motor.
There is no schematic of this switch or wiring. If you are not comfortable replacing the switch, get a technician to repair the drill.
Read More
Jimmy K -
Sears Technician
June 24, 2009
Q:
I have a model 315.11351 drill. I need a new switch. I received sub p/n 615930-003. It doesn't use the same connector. What p/n do I need, there are 5 listed?
A:
The switch you received is the correct part number for the switch. You can pick up new terminal ends and wire nuts as needed at a builders supply or hardware store.
Read More
Jimmy K -
Sears Technician
June 22, 2009