Model #247799831 CRAFTSMAN Chipper Shredder/Vacuum, Gas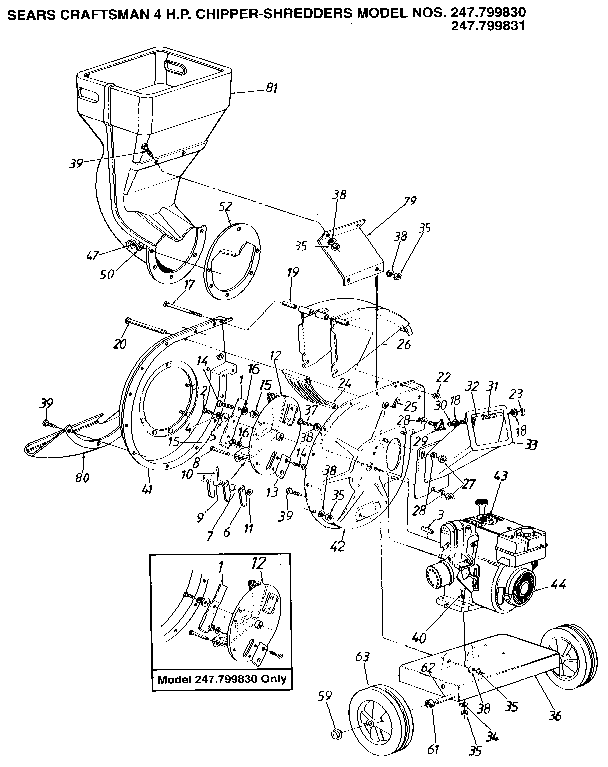 Question and Answers
Q:
motor barely fires, not starting.gas getting to carb. 247799831 Craftsman Chipper shredder
A:
Thank you for your question.
I am sorry you are having a problem with the engine on the chipper. If the engine will run on starting fluid, I suspect the main jet in the carburetor is partly plugged. Usually cleaning the carburetor will cure the problem. I found a great video that shows how to clean the carburetor. Click here to watch the video. The video shows a 3.5 horse engine but yours should be the same. Before you start this type of repair be sure you are working in a well-ventilated area free of open flames.
If you need to order parts for the carburetor, you can do so from the following link. Replacement parts for a Tecumseh engine model HS40-55598K.
I hope this is helpful. Please let me know if you need further assistance.
Thank you for using Manage my life.
Mark T.
Read More
Mark T -
Sears Technician
October 25, 2013
A:
MarkT., Thanks for posting the video on rebuilding this carb. It's helped me determine the pilot jet setting. Although it didn't note the main jet number of turns from fully seated. Do you happen to know a good starting position for the main jet screw? I cleaned the carb, and have installed the new carb kit. But she's not running w/o starting fluid. Got a new spark plug and air filter as well. What we did was: Cleaned the carb and rebuilt with existing/old parts Replaced the spark plug Removed the air cleaner Got her started with starting fluid, but would not run well ( I assume bc the air cleaner wasn't on ) Later, Rebuilt the carb with new kit Installed a new air cleaner Couldn't get her to fire Pulled the air cleaner back off so we can inject starting fluid Got her to fire, but needed the starting fluid to run continuous I'm certain the carb is free and clear, we did the cleaning with carb cleaner. It looks good. Maybe I've got the wrong number of turns on the main jet? Maybe w/o the air cleaner she's getting too much air? Do you think I have a compression issue? Should I pull the head and investigate the valves for seating issues? Looking for some direction. The valve cover has been pulled before, there's evidence of gasket sealer oozing out. I bought a new valve cover gasket just in case. Don't have a service manual so don't know torques. Please offer direction. I'm under the gun with a bunch if twigs piled up on the driveway needing to be chipped. Neighborhood assoc. will start getting annoyed soon:/ Thanks Gordon
Read More
See more answers