Model #220 WAGNER Power sprayer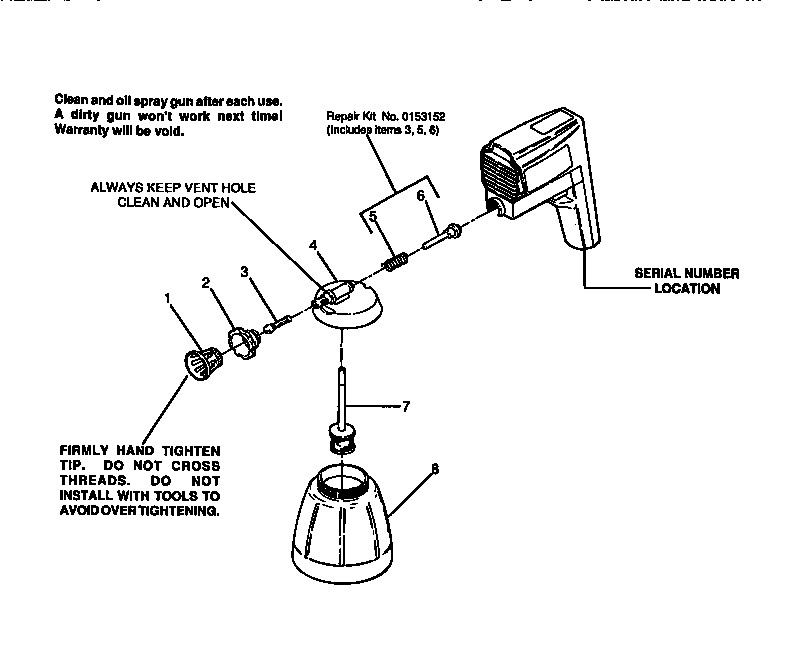 Question and Answers
Q:
I have an air compressor model 919.165612, 220 volt. It does not build pressure above 110 psi. There are no leaks, cleaned the filter, it has a new switch. Any ideas?
A:
Your air compressor probably has something broken inside the cylinder. Disconnect the power to the air compressor and remove the plastic cover around the motor and compressor.
Before you take the compressor apart, listen and feel for air leaks. Check to see if air is coming back out of the intake filter. If air is coming back out of the intake filter, something is wrong inside the cylinder.
You can see a parts diagram at [www.searspartsdirect.com]. The parts diagram will help you locate the parts that build air pressure. These are the parts you need to inspect.
Turn the motor shaft by hand and be sure the piston goes up and down.
If the piston is ok remove the 4 screws holding the head on top of the cylinder. Remove the head.
Directly under the head is the pressure plate. The pressure plate has reeds on it that direct the air into the discharge line and keep the air from going back through the intake side of the compressor. Check the reeds for warping or breaking. If the reeds are damaged, you must replace the pressure plate. Make note of how the pressure plate sets and the o-rings that seal around it.
Remove the pressure plate and inspect the plastic sleeve inside the cylinder. Look for scratches or cuts in the sleeve. Make note of the piston and the rubber o-ring around it. If the o-ring is worn or broken the air goes back through the intake filter and no pressure is built. If you have to replace the o-ring, replace the piston and sleeve also.
To replace the o-ring and sleeve, you have to remove the nut that holds the piston to the motor shaft. When you replace the nut you must torque it to 85-90 foot pounds. Torque the head bolts to 7-10 foot pounds.
Read More
Jimmy K -
Sears Technician
August 05, 2009
A:
I have the same compressor. Once over 90 PSI, it slowly leaks air on the right side (where the aluminum right-angled fitting feeds the copper line to the tank). If I push in on the fitting, the sounds slows down. Once below 90, it stops. Anything higher and you can feel air in that vicinity. Not sure how to replace that. Do I need to replace the whole unit (power, pressure switch, fitting, etc.)? First time unit has ever had power (I know, it's old).
Read More
See more answers