Model #153316250 KENMORE Water heater, Electric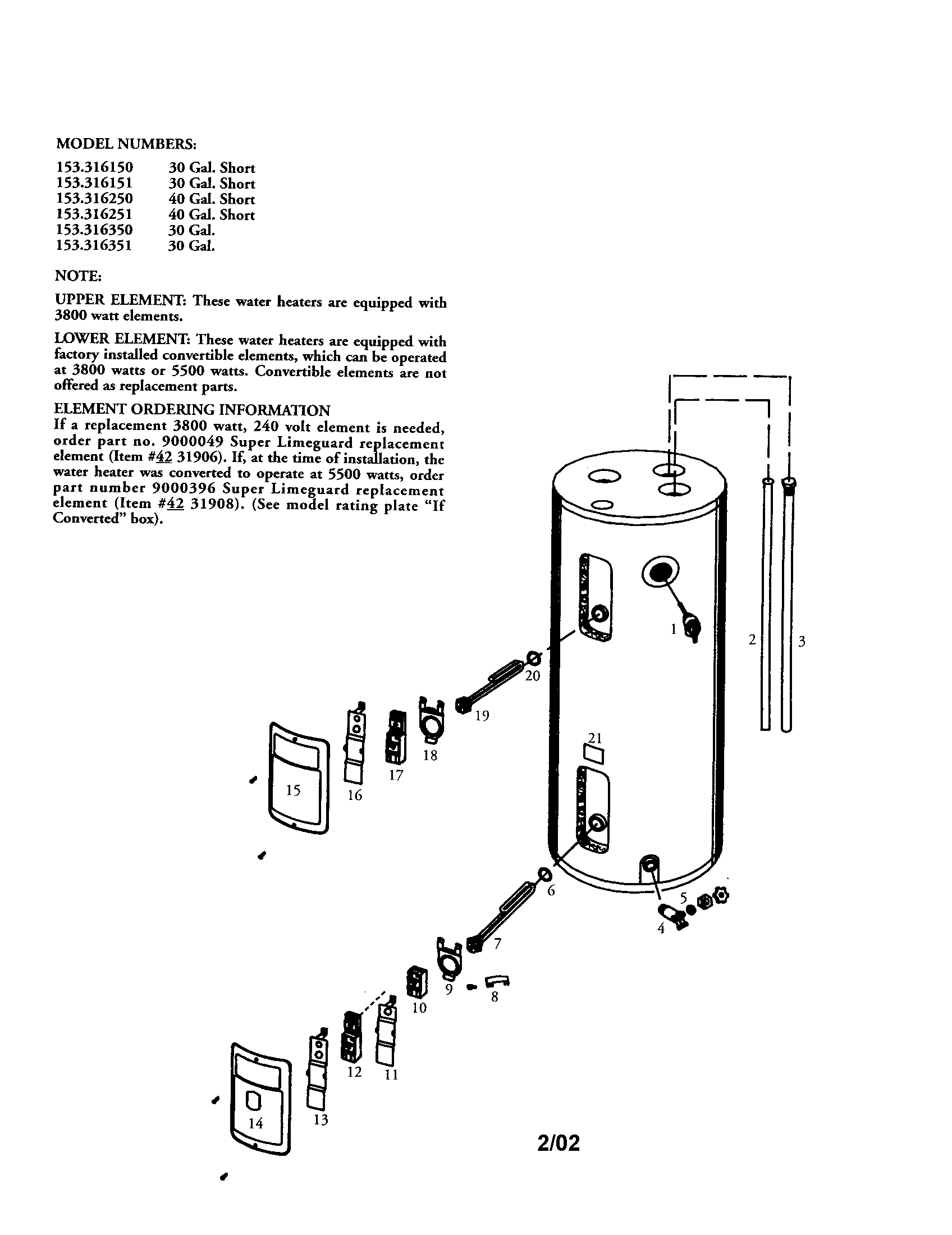 Question and Answers
Q:
Why is my Kenmore water heater not working?
A:
This guide assumes that the hot water heaters were properly installed and were operating correctly before any problems developed.
Most electric hot water heaters have two thermostats, one near the top of the tank and one near the bottom, and are covered by removable metal cover plates. The thermostats are pressed firmly against the bare metal wall of the hot water heaters tank.
The top thermostat usually has a high limit switch that will trip if the water gets too hot. When it trips it shuts off the electricity to both the upper and lower heating elements.
To reset the high limit switch there is usually a red button that you must press. When the upper limit switch trips it is often an indication that something else has gone wrong with the heater.
First remove the upper thermostat cover plate and check the high limit switch button. If it has tripped, press it to reset it.
Check for power (220volts) at the input terminals of the upper thermostat. (usually marked L1 and L2) If no power is present then check your circuit breakers or wiring to the water heater.
If there is no hot water then the upper thermostat should be applying power to the upper heating element. Check for voltage (220volts) at the upper heating element. If there is power at the heating element but the element is not getting hot then the heating element needs to be replaced.
If there is no power at the upper heating element then the upper thermostat needs to be replaced.
If you do not feel confident repairing this problem yourself, then you can have it repaired at your home by a Sears technician. Here is a link for the website: Sears Home Services .
SAFETY NOTICE: Be sure to disconnect power to the appliance before performing any repairs. If you are not comfortable with doing any voltage checks that might be recommended, please contact your local service provider for repairs. Be aware that there could be sharp edges inside the appliance that could cause cuts or other injuries to yourself or others.
Read More
biker dave -
Sears Technician
February 26, 2010
Q:
Why do I have to reset this water heater?
A:
If it works ok for a few days after you press the reset and now it's tripped again, it indicates the thermostat is weak. It's usually best to replace both thermostats. The top thermostat is # 31917 and the lower thermostat is # 9002214. Both of these parts are available at Sears PartsDirect .
Read More
Scott D -
Sears Technician
June 19, 2009
Recommended maintenance parts & accessories