Model #153312460 KENMORE Water heater, Electric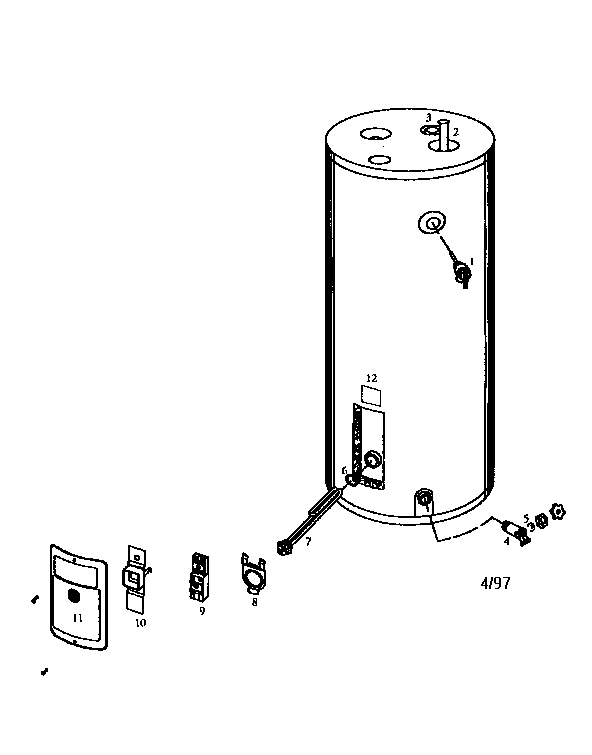 Question and Answers
Q:
Why won't my water heater heat water?
A:
The element in the water heater may have been damaged. If an electric element in a water heater is started with no water on it, the element will open in about 1 to 2 seconds. There is a reset button located on the thermostat. Press the red button, if it was tripped you will hear a pop or click when it resets. This unit also has an on/off switch, make sure the switch is in the on position. If the water heater is full of water, reset is good, and the power is on you will be able to hear the element heating if it is on. You will hear a crackling sound as the element heats up. If the element is not on, you can check the resistance of the element with a volt/ohm meter. Make sure the power is shut off to prevent shock hazard, disconnect one wire from the element and check across the two terminals, the element should have about 17 ohms of resistance. Most of the time, if you are sure the water heater has electrical power the element and the thermostat are replaced together. Most Sears stores carry a kit that includes both.
I have included a link you may use for parts purchase; please click the following Sears Parts Direct
Read More
Landell -
Sears Technician
January 14, 2010
A:
Thank you. I did press the red button and it did click but nothing appeared to have happened. I went back and did it again, and as of right now, I am getting some hot water. I hope it stays that way! Thanks for the rest of the info.
Read More
Diane013 -
November 26, 2010
See more answers
Q:
Do you have to drain the tank to replace the element?
A:
Unless you are very experienced on replacing water heater elements, Yes, I strongly recommend draining the tank first. Otherwise, it could cause a lot of damage. To drain the tank, be sure to turn the breaker and supply water valve off and open any hot water tap in the house. Before turning the breaker back on after the new element is installed, be sure to fill the tank or at least make sure the element is submerged first. If it's turned back on too soon and the element is not in the water, it will burn out. If you need more assistance, please resubmit your question, with additional details.
Read More
Scott D -
Sears Technician
March 22, 2010