Model #11658512790 KENMORE Attachments (Vacuum)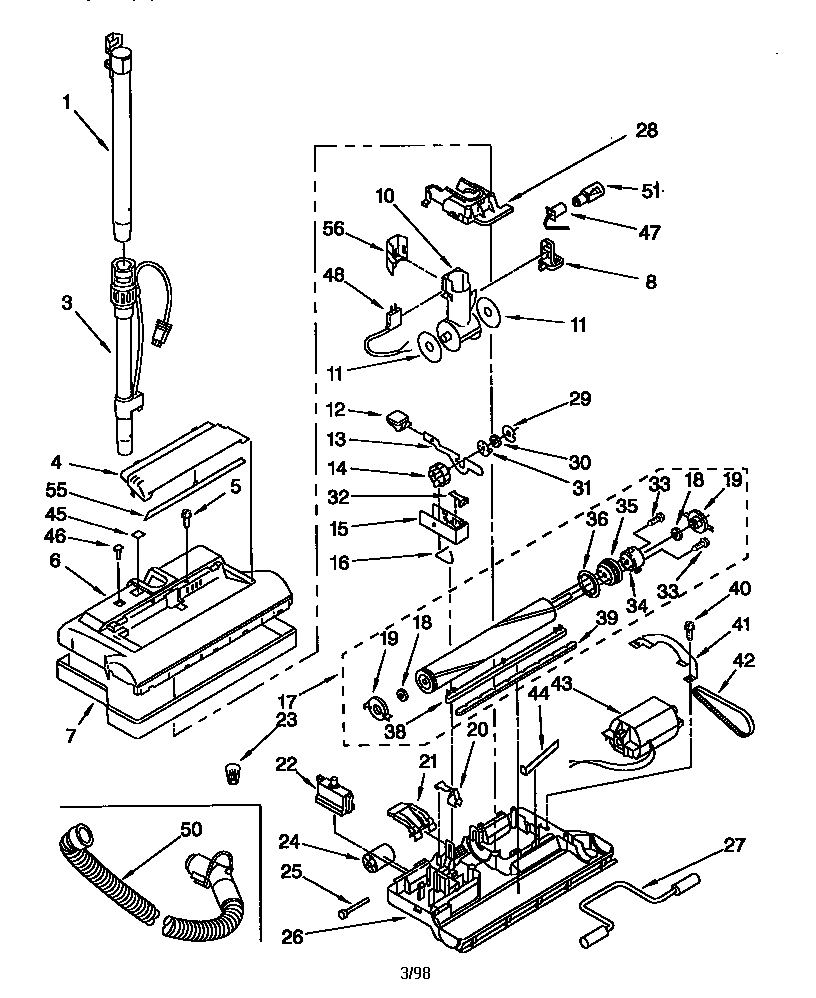 Question and Answers
Q:
The Power-Mate on my canister vacuum (model 116.58512790 - Whispertone 200) will not operate. How do I fix it?
A:
Motors on vacuums seldom fail. Someone needs to test the voltage into the power mate and see if the motor is getting voltage.
Check the connectors on the wand, powermate, and handle of the vacuum and powermate. The connectors can wear out.
If you don't find anything, you can take the powermate and canister to a Sears Parts and Service Center, or a Sears Retail Store for repair.
Read More
Jimmy K -
Sears Technician
March 12, 2010
A:
In my case, power to the powermate was intermittent -- it would stop and go -- I suspected a bad connection. I took apart the handle to inspect the wiring harness connector that connects the handle leads to the wand leads. As it turned out, the wiring harness connector was supposed to be secured from moving back and forth by two thin plastic tabs molded into the handle. These tabs had broken off, allowing the connector to slide back making a poor connection.. I was able to secure the connector by wedging in a small piece of wood behind the connector to keep it from slipping backwards and causing a loose connection. This solved my intermittent power problem and the powermate now runs flawlessly.
Read More
stillgary -
October 04, 2011
See more answers
Q:
How do I hook up the wires to the motor on my Power Mate vacuum cleaner?
A:
The service manual for this model of vacuum is not available online. The written instructions for motor replacement advise the technician to "pay close attention to the routing of the wires so that you may replace them in the same manner when installing the new motor."
The wiring diagram shows that the black wire from the motor connects to the overload protector along with the black wire from the light socket. The white motor wire connects to the white light socket wire and the disconnect plug. The light socket is in a parallel circuit with the motor.
This information should help you wire the motor. If you need additional help, resubmit your question with additional details.
Read More
expert -
Sears Technician
February 26, 2008
A:
Kenmore canister Model 116.25512504 . The wires slide under the height adjuster but I don't know if I can take the adjuster out without damaging it. Otherwise I would just reroute the wires on top of it.
Read More
J ERIK -
December 01, 2010
See more answers
Q:
How do I install a motor in a Kenmore vacuum cleaner model 116.58512790?
A:
The procedure in the first image below shows how to remove the height adjustment assembly. The second image shows the procedure to replace the motor. Be sure that the wires are routed correctly to avoid pinching them. I provided a diagram for wire routing in the second image below.
If you need more help, resubmit your question with additional details.
Read More
Lyle W -
Sears Technician
August 17, 2009