Model #11087373800 SEARS Laundry Appliances Division (26)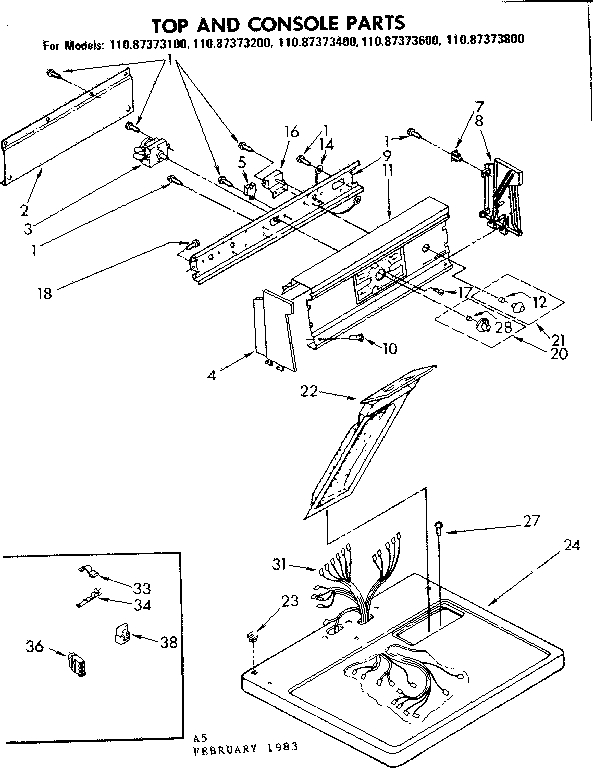 Question and Answers
Q:
Why is my Kenmore gas dryer not heating?
A:
If the igniter is not coming on we need to check for 120volts coming to the igniter. If you read 120volts when the igniter should be on, you will need to replace the igniter. If you do not read 120volts at the igniter you need to work your way back towards source voltage until you find 120volts. The wiring diagram provided is not your exact model but shows the same circuit. All of the components from the flame sensor back to the timer will have to show closed in order for power to get to the igniter.
The gas line should have a cut off next to the gas valve. If the igniter needs replaced you will need to disconnect the gas line & pull the gas valve out. This dryer does not have a reset.
Read More
biker dave -
Sears Technician
July 07, 2009
Q:
Why won't my Kenmore dryer model 110.873783800 heat even though it spins fine?
A:
The model number that you submitted appears to be slighty off. I suspect that you have a model 110.87373800. This model would be a gas dryer. Here are some tips for that model and type of dryer:
Check the gas cut-off valve for the dryer to make sure that it is fully open. Make sure that you have an adequate gas supply provided to the dryer. This basic troubleshooting step should not be overlooked.
Check the dryer on both of the heated dry settings. If the dryer will heat on one setting but not the other, then you could have one of the following failures:

Open operating thermostat for the setting that is not working
Failed timer switch
Wiring failure in that portion of the heating circuit

If the dryer will not heat on either temperature setting, then you will need to continue with the diagnostic steps below.
The next step in troubleshooting would be to pull the bottom front service panel (see image below) to observe the burner assembly. Start a heated cycle and see if the igniter on the burner assembly glows. If the igniter glows and then cycles off without gas ignition and then cycles back on, your likely failure is in the gas valve coils. You would need to order a coil kit (part number 279834) from the Sears PartsDirect website.
If the igniter does not glow, you could have one of the following failures:

Open high limit thermostat
Open radiant sensor
Failed igniter
Failed contact in the motor centrifugal switch
Failed timer contacts
Failed operating thermostats
Wiring failure between components in the heating circuit
These tips may help you determine the cause of your heating failure in the dryer.
If you need more help, resubmit your question with additional details and the full model number of your dryer (after rechecking it).
Read More
Lyle W -
Sears Technician
July 02, 2009
Recommended maintenance parts & accessories