Model #1095 PORTER CABLE Sander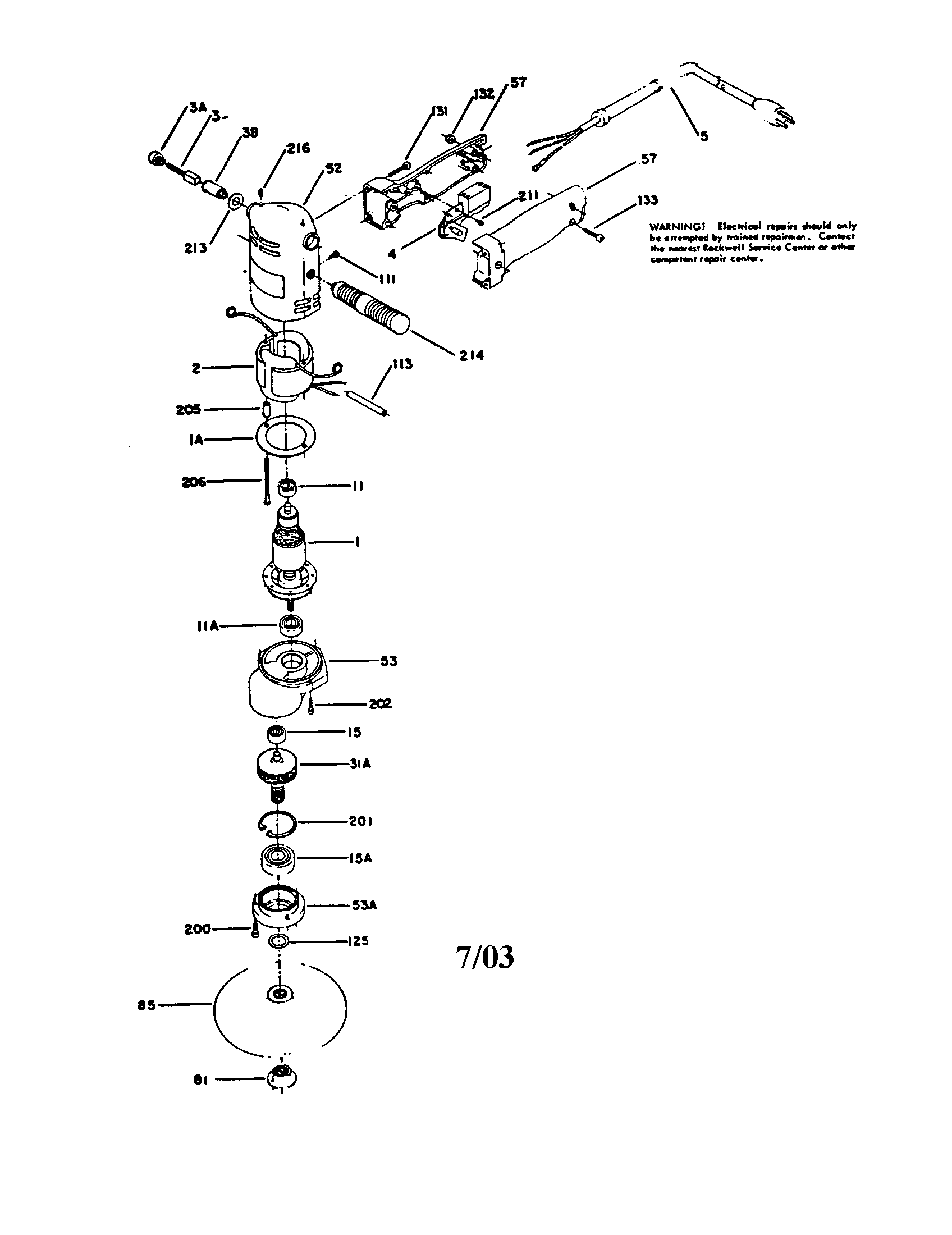 Question and Answers
Q:
F3 error PLGF389CCB Frigidaire Gas range
A:
I found this response on another website. I'll check the wiring today. Old 10-09-2013, 01:25 AM denman denman is offline Senior Expert APP Volunteer Join Date: Feb 2008 Posts: 16,785 denman is a glorious beacon of light Default Here are your parts Parts for Frigidaire PLES389CCB Range - AppliancePartsPros.com Here is a wiring diagram. http://manuals.frigidaire.com/prodin.../318045064.pdf First I would check that the new sensor is OK. Should be about 100 ohms at room temperature. Always a possibility that you have a bad replacement. This would be a long shot. You will see that there is a thermal circuit breaker (item F219 in the Body Parts section) in the sensor circuit. Unplug the unit and check it with a meter. Use the most sensitive meter scale. Also short the leads together before starting your measurement so you know if there is any zero offset in the meter. It should be 0 ohms. Check the connectors in the oven sensor circuit, that they are clean, properly connected and crimped. If all the above are OK then odds are that the problem is on the control board. Check the connector on the board for a cold solder joint. Often a cold join will be a duller silver color and/or have pin holes. Gently wiggle the connector while watching it's solder side, to see if the legs move in the solder. Check for any hairline cracks across the tracks on the board that go to the oven sensor. If all OK then the problem is most likely an electronic fault on the board. Read more: http://forum.appliancepartspros.com/oven-repair-including-ranges-cooktops/536751-frigidaire-electrolux-stove-f3-wont-clear.html#ixzz32ddM2Sqa http://forum.appliancepartspros.com
Read More
A:
Thanks for the inquiry and for using SearsPartsDirect.com.
The F3 error code does indicate an issue with the temperature sensor circuit, which is comprised of the temperature probe and the electronic control board. The temperature probe should have a resistance of 1095 ohms at room temperature of 75 degrees. If it checks out, the electronic control board will need to be replaced to solve the issue.
If by chance you determine that the board needs to be ordered, I have provided a blue link below that you may click on to be directed to the SearsParts site to view and purchase the board when needed. Since you've replaced the temp probe (presuming it's not defective), the board would be the next most logical selection.

Electronic Control Board for Model PLGF389CCB

Overlay for Control Board for Model PLGF389CCB

Hope this helps and thanks for using SearsPartsDirect.com. We appreciate your business.



Read More
Jeff Wallace Sr -
Sears Technician
May 24, 2014
See more answers
Q:
finding the stirrer motor JEB1095SB002 Ge Microwave
A:
Thank you for contacting SearsPartsDirect.com with your questions about your GE microwave. I am so sorry to hear the stirrer motor needs to be replaced. I know what a time saver the microwave is and know you want to get it working again quickly. In this case, I suggest you have the microwave repaired by a qualified technician.
We do not give advice on repairing microwave ovens because they are inherently dangerous to service. Microwaves contain high voltage internal components that can retain a lethal electrical charge even when the microwave is unplugged from the outlet. You need special equipment to work on a microwave starting with an anti-static wrist strap grounded to the microwave to even test components in it. Even minor door repairs and adjustments can cause microwave leakage, and a microwave shielding leakage test MUST be performed using a survey meter after any microwave service.
For these safety reasons I strongly recommend having this repair completed by a qualified service technician. To schedule service go to www.SearsHomeServices.com or call 1-800-4-MY-HOME (1-800-469-4663). Here at SearsPartsDirect.com we love to help you with your repairs, but our expert advice is that microwaves are just too dangerous for a do-it-yourself project.
Thank you for your understanding in this matter and I hope we can help you with your future questions and repairs. Thank you for choosing Sears and using our SearsPartsDirect.com service.
Read More
Rachel Morgan -
Sears Technician
April 12, 2014
Q:
My refrig. sometimes does not turn on, and when I move TEMP. control switch, it starts and works properly for 2 to 3 weeks then repeats. 106.9555382
A:
Thanks for the information about your refrigerator model 106.9555382; sorry you are having a problem, I will be glad to assist you. Based on your description of adjusting the temperature control to make the unit start I would suspect that control is going bad. The sensor tube (bulb) that comes out of the back of the mechanical thermostat feed back to the air duct so it can sense the air temperature and cycle accordingly. The only other component that would cause this type of stoppage is the defrost timer that is also located in the control box with the thermostat. If it has poor or worn terminals inside of it any tiny movement could cause the unit to stop running again. My recommendation would be to observe closely the next time this happens, gently and turn the thermostat knob, if the unit starts to run I would change the thermostat. There is a slot at the bottom of the control box where you can turn the timer to advance (use a flat blade screwdriver) if the temperature control does not make it come on but remember the unit will go into an auto defrost every 10 hours (stays in defrost for about 20 min.) so don't confuse that defrost time with the unit going off.I hope this helps, if you need additional help reply with more details and I will be happy to respond. If you need parts here is a link to Sears Parts Direct. If you get to the point where you need to have a service technician diagnose and repair this failure, you can schedule service through this link: Sears Home Services. Ron H.
Read More
Ron H -
Sears Technician
August 23, 2013