Model #1068711491 KENMORE Air-conditioner/heat pump(outside unit)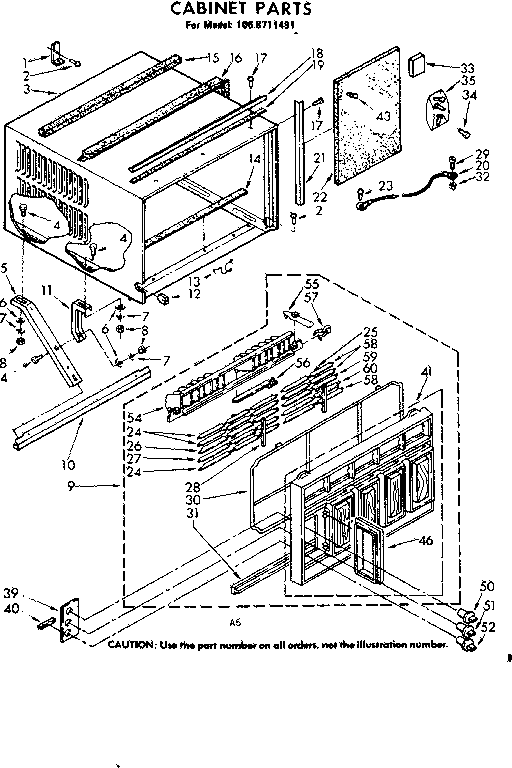 Question and Answers
Q:
WHAT IS THE AGE OF MY WINDOW AIR CONDITIONING PER SERIAL NUMBERS?
A:
By the model number listed, this is a 1981 window a/c. The first 3 digits (106) of the model is the source, the next digit (8) is the decade and the third digit (1) is the year.
By serial number:
E = place is was made
First digit (1) is the year
Next 2 digits (26) is the week
Next to last digit (8) is the decade
Read More
Scott D -
Sears Technician
January 03, 2010
Q:
WHAT IS THE WIDTH, HEIGHT AND DEPTH OF THE CABINET?
A:
The part number for the case is 1157805 but is no longer available. The installation instructions which includes the dimensions is also no longer available. However, the dimensions for the cabinet insulation is available which should help determine the cabinet size. The measurements are 5/8" x 13" x 25-11/16".
Read More
Scott D -
Sears Technician
January 03, 2010
Q:
Why won't the compressor restart by itself?
A:
The compressor cannot come back on so soon after is quits. The pressures inside the system have to equalize. In other words the compressor will be trying to restart and pump against a very heavy back pressure. It won't be able to push this pressure until the pressure settles down. During this time, each time the compressor tries to start, it's pulling an excessive amount of current, which causes the lights to dim. After a few attempts the compressor will overheat and the internal overload will shut it down. The thermostat # 949350 is what controls the cycling of the compressor and will be the cause of it trying to start too soon. The thermostat will need to be replaced and is available at Sears PartsDirect .
Read More
Scott D -
Sears Technician
January 03, 2010