Model #1068254982 KENMORE Upright Freezer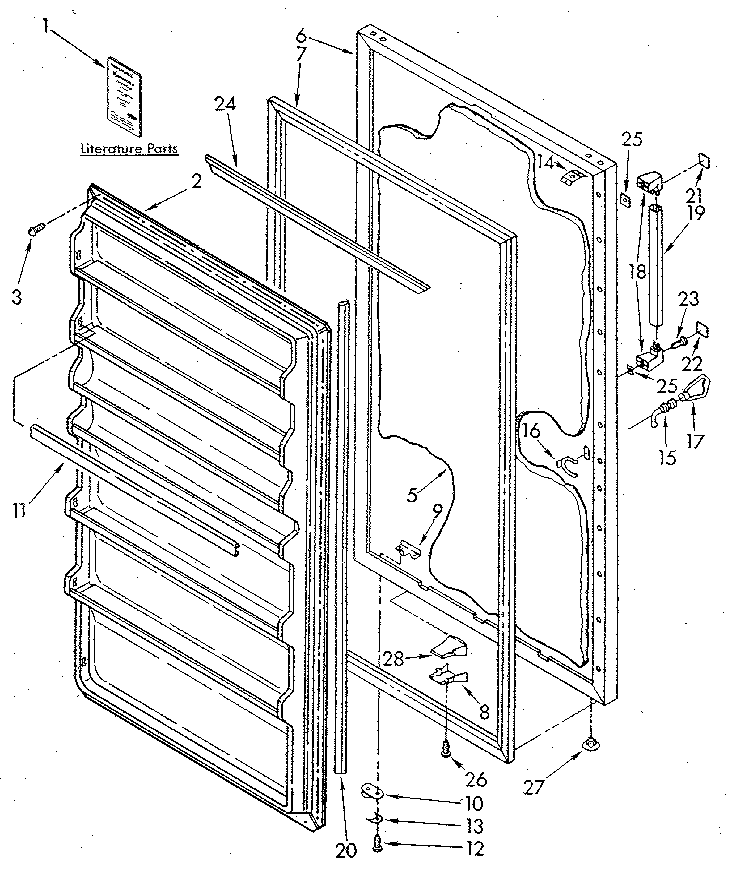 Error Codes
Error Code:
Condition:
Check/Repair:
Question and Answers
Q:
kenmoore upright freezer model# 106.8254982 stop working
A:
I understand the importance of having a properly working upright freezer. While you are waiting for an expert to respond, I have attached some helpful links below that may provide information to assist you with your question. Have a great day!
Read More
Alina F. -
April 10, 2012
A:
Check to see if the light turns on inside the freezer (if it has an interior light). You may need to check that electrical outlet to make sure that it is working. Plug a small lamp or appliance into the outlet if necessary to check it for power. This initial troubleshooting step should not be overlooked if you have not already checked that issue.
If the freezer definitely has power, check to see if the evaporator fan is running. If that evaporator fan is running but the compressor is not, then you could have a wiring failure or a problem with that compressor start relay (part 2262181). A failed compressor or a wiring failure could also cause that problem. I provided a wiring diagram for that freezer in the image below. That wiring diagram is on microfiche (due to the age of the freezer). I traced the essential circuits in the wire colors that you should see. I recommend that you unplug the freezer and check those wiring connections on the compressor. If you suspect that the relay is bad, then replacing that component may fix your problem. Here is a link for that part: Compressor Start Relay for Kenmore Freezer 106.8254982 . Here is a video that shows how to change that relay on a compressor: Changing the Start Relay on a Whirlpool Refrigerator . That video shows a refrigerator but the start relay on your freezer compressor is the same. NOTE: That start relay part 2262181 is used on the normal production (original) compressor and the service compressor (replacement compressor used if the original one went bad). There is a chance that the relay 2262181 will not fit the compressor if a different compressor was installed in that freezer during a previous service call. Replacing that start relay may fix your problem in a situation where the evaporator fan is running but the compressor is not running. If you replace that start relay and the compressor still won't run, then you could have a wiring failure or a bad compressor. A service technician will normally need to repair that type of failure. You can schedule service through this link: Sears Home Services .
If the evaporator fan and the compressor fail to run, then you could have a problem with the defrost timer or the cold control thermostat. You can manually advance that defrost timer and see if the evaporator fan and compressor will start. You should see a hole in the control box where you can insert a flat tip screw driver and manually advance that timer in a clockwise direction. Advance that timer slowly and see if the compressor and fan kick on. If they do, then the timer may have been in the defrost mode. If it advances and works properly, then you probably won't need to replace that component. If the timer will not advance on its own, then you will need to replace it. Here is a link for the parts page that has the timer and other control components: Kenmore Freezer 106.8254982 Liner Parts . If you advance that defrost timer and the compressor does not start, then you could have a problem with the cold control thermostat. That component is shown the above liner parts page. Be sure that you unplug the refrigerator before accessing internal components.
These tips may help you diagnose and repair that freezer failure. If you need more help, reply with additional details.
If you get to a point where you need to have a service technician diagnose and repair that failure, you can schedule service through this link: Sears Home Services .
Read More
Lyle W -
Sears Technician
April 10, 2012
See more answers
Q:
Is there a reset button for my Kenmore Upright model 106.8254982
A:
Power interruptions can cause issues with most of our household appliances. While you wait for the expert to review this model to respond you can check a similar question from a previous post if you like. I attached the link below.
Read More
Barbara H. -
July 21, 2011
A:
Is the fan motor running? Is it cooling at all or just slightly? Can you hear the compressor running or is there a clicking noise now when it tries to start? If it makes a clicking noise it indicates either the (relay/overload) is weak or the compressor is locked. If the compressor and motors are all running, the problem could be in the seal system. there isn't a way to reset the compressor. You can try unplugging the unit for 5 minutes, restore the power and see if that make a difference. If not, a technician will have the equipment to make these checks. It is possible that the power outage could have caused this problem. If you need more assistance you can resubmit your question with more details. We will be delighted to assist you.
Read More
Korinna S -
Sears Technician
July 22, 2011
See more answers
Recommended maintenance parts & accessories