Band Saw: Won't start
A bad power supply, broken power cord, failed on/off switch or bad drive motor can prevent the band saw from starting. Check the power supply first. Plug a shop light or other electrical tool into the electrical outlet that you're using for the band saw to make sure the outlet works. If the electrical outlet is dead, reset the house circuit breaker for the outlet. If the outlet still doesn't work, try using a different outlet to power the band saw.
If the electrical outlet is okay, unplug the band saw and check the power cord for damage. Replace the cord if it's damaged. If the power cord is okay, use a multimeter to check for continuity through the on/off switch with the switch turned on (with the band saw still unplugged). The meter should measure near 0 ohms of resistance through the switch. If the meter measures infinite resistance, replace the switch because it's preventing the drive motor from getting power.
If the on/off switch is okay, check the wire harness connections between the switch and the drive motor. Reconnect any loose wires and repair any broken wires. If the wiring connections are okay, then you'll likely need to replace the drive motor because it doesn't run even though it should be getting electrical current through the power cord, on/off switch and wires.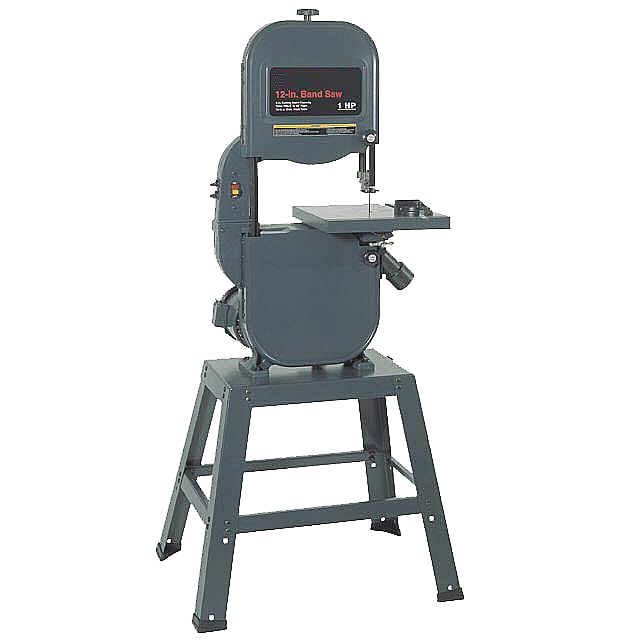 These repairs may help solve your band saw problem
Replace the band saw On/Off switch
The On/Off switch includes a safety key. The safety key must be in place to turn on the band saw. If the switch won't activate the band saw with the safety key inserted, replace the On/Off switch.
April 1, 2015
By Lyle Weischwill
If your band saw won't turn on or off when you flip the switch, the on/off switch might be broken. This repair guide and video show how to replace a band saw on/off switch in 4 quick steps.
Time required
 15 minutes or less
Replace the band saw drive motor
The band saw motor rotates the lower wheel to spin the band saw blade. A weak motor may stop spinning when you start cutting. Replace the motor if it's weak or doesn't spin when activated.
Replace the band saw power cord
The power cord attaches to the start switch to provide power to the band saw. Examine the power cord regularly for damage. Broken wires in the power cord prevent the band saw from getting power. Replace the power cord if it's damaged or broken.