Model #PFTL685050 PROFORM Treadmill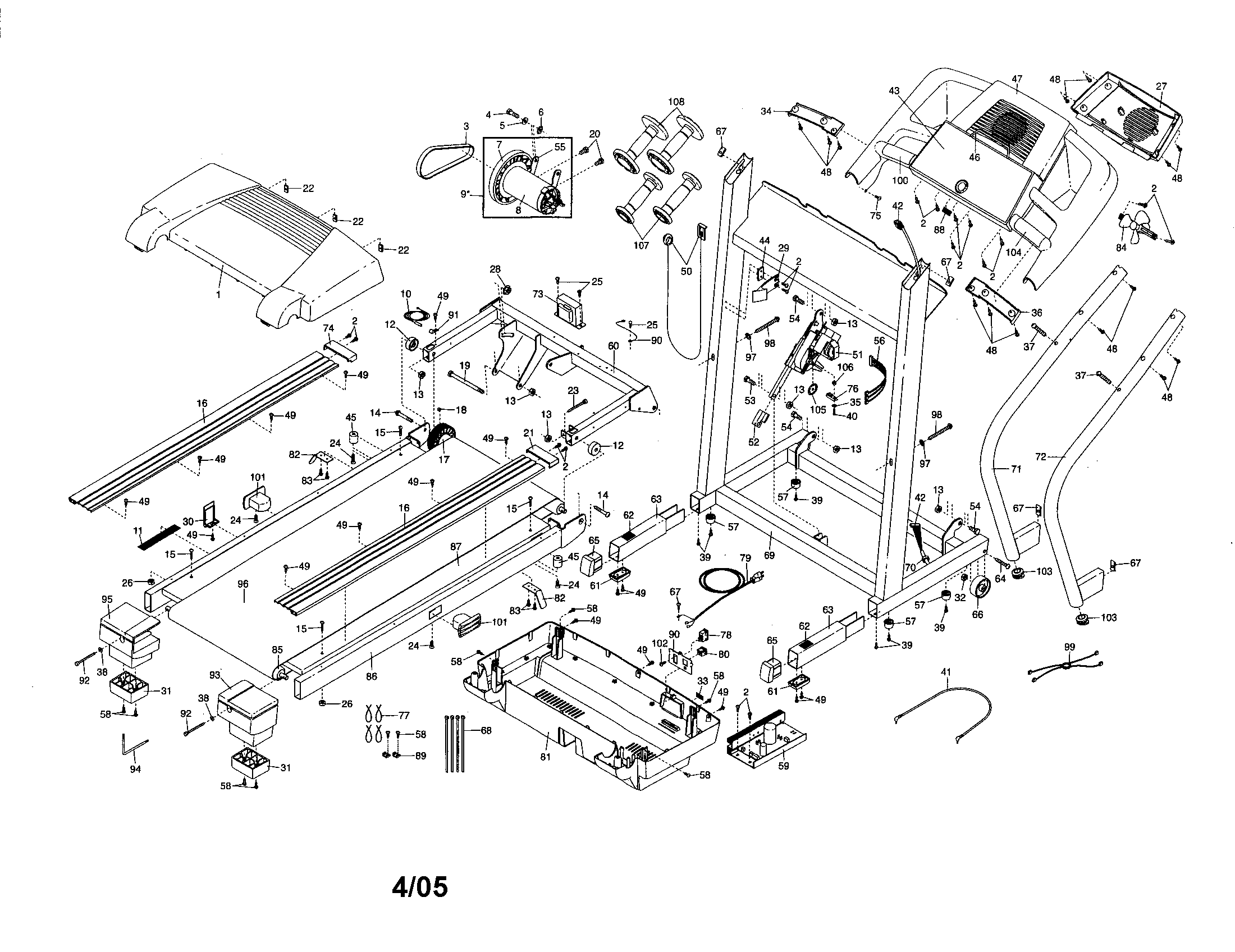 Question and Answers
Q:
Why won't the MC 2100 motor controller light up and the motor not work on my treadmill?
A:
I provided the technical information for this treadmill in the images below. Since you are not seeing a light on the MC2100 motor controller, this indicates that it is not detecting that it is receiving 120 volts of power.
NOTE: The information below is intended for technicians. You should not use this data unless you are completely confident in your technical ability to safely access the components and perform the checks described. There are live voltage checks described in these procedures. Use extreme caution if you conduct these live voltage checks yourself. Unplug the treadmill when accessing internal components. Only plug the treadmill in when live voltage checks are necessary and are being conducted. Avoid touching live, bare wire contacts when the treadmill is plugged in during live voltage checks.
The technical information below may help you diagnose and repair your treadmill problem. If you need more help, resubmit your question with additional details.
NOTE: According to your description, the model number of your Proform 400 GL treadmill is likely PFTL685050. You can verify this model number and order parts from the Sears PartsDirect website if needed.
If you do not feel confident repairing this problem yourself, then you can have it repaired at your home by a Sears technician. Here is a link for the website: Sears Home Services .
Read More
Lyle W -
Sears Technician
March 09, 2010
A:
Hello Lyle W I Have just picked up this thread on the MC-2100 and just wondered if I can join in and ask for some info and help please on the system that uses the MC-2100E I am a Tech based in the UK And I normally work on Airport Nav Aids, I was asked to have a look at this for a friend !!.Apart from the obvious differences in Power supplied to the tread mill, As you will probably know we use Grid supplies 220-240 Volts and You use 110-120 I believe. The Treadmill is a Pro-Form PF3.8 Model No PETL40707.1 and we have a Large Power Transformer mounted off the board to the side of the control board and a few other variations on the control board itself but the general system appears the same from the information I have found from some of your other previous threads. The control board appears to be working as it should in inclination mode etc except I have no treadmill motor running. I have a steady red LED. Checks on HD2 Blue Wire Give No Pulse information, This has been checked with a Scope as well as a Dvm all I seem to be getting is spurious noise when checked with a Scope. To me it looks like no Pulse Data coming from the console. I have not had a chance to get into the console yet as available time ran out. Is it common to get cable harness faults between the console and the control unit or am I looking at a problem on the console. Do you have a circuit diagram for the board or any useful test information. Thanks in anticipation.Pete///
Read More
See more answers