Model #PFTL42060 PROFORM Treadmill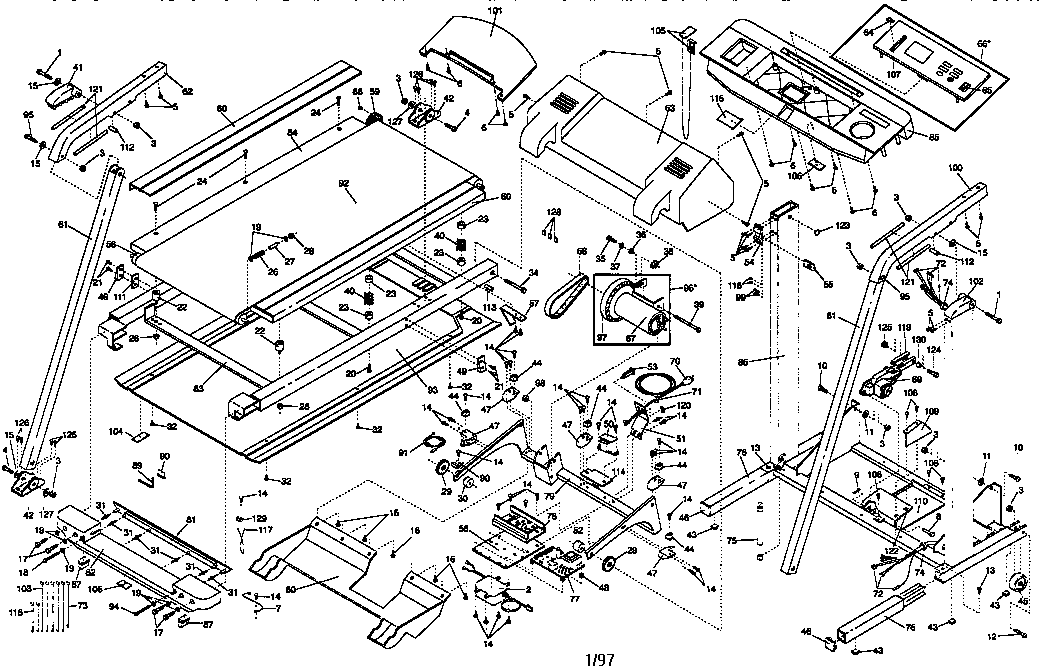 Question and Answers
Q:
What do I need to do to change the walk belt on a Proform 585tl?
A:
Unfortunately, there are few tips or shortcuts to help with the replacement of the walk belt on this model.
Be sure the unit is unplugged. Loosening the motor and walk belts first will be easier than once the entire assembly is apart. And removing the hydraulic shocks before you move any major components will help prevent overextending which can make it difficult to align them during reassembly.
After that it is a matter of a major disassembly. You will need to remove the side rails, and then loosen the frame uprights until you can remove the entire lower frame and walk board and belt assembly from the forward frame and uprights. Be sure to disconnect any wiring between the two before you move too far or it may be damaged.
Once the assemblies are apart remove the rollers and walk board and belt from the lower frame. Check the walk board carefully for wear or damage, particularly in the center where the most load occurs during exercising. If there is any roughness, cracking, or notable wear the board should be replaced. A new belt will wear rapidly if installed on a damaged board. Take a second to compare the old walk belt and the new one to be sure they are the same width and length, sometimes parts are incorrect and it is better to find any problem now than once everything is together.
Now you can reassemble the treadmill. Referring to the parts breakdown page from your owner's manual will help remind you how all the components fit together. Unfortunately, the manual for this model is not currently available to view online at Manage My Home but might be through the manufacturer at . The manual could also be ordered through your Sears Store or Sears.com using the part number 06.831.132222.
Once the treadmill is together, be sure to add belt lube if needed, adding lube before reassembly makes it too easy for lube to get on everything and just makes the job harder. The belt and board should look slick and slightly wet but do not add so much that it pools or runs. Wipe away any excess as it will attract dust and gum up. Icon Belt Lube for this model is available through your Sears Store or Sears.com using the part number 06.831.219170.
The new belt will be stiff and takes some time to align properly. Slight adjustments may also be required to keep the belt centered as you start to use the treadmill and the belt breaks-in.
Even experienced techs find walk belt changes on this model to be a long and involved process so if you feel the slightest bit unsure or uncomfortable with the process you may want to consider having the job done professionally.
Read More
expert -
Sears Technician
February 18, 2008