Model #LE2802 AMANA Residential Dryer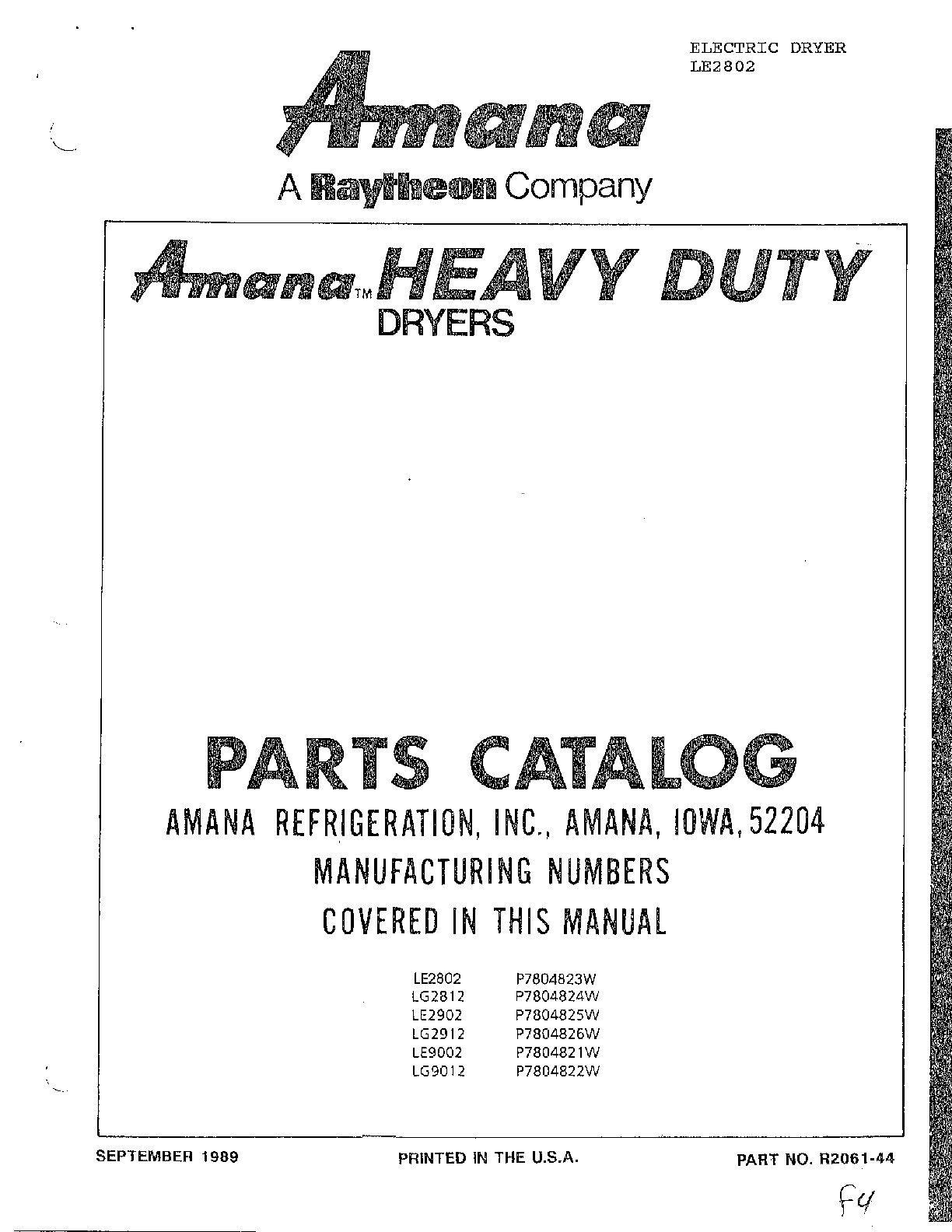 Question and Answers
Q:
How do I connect a 4 prong power cord on my dryer?
A:
WARNING: To reduce the risk of electric shock or fatal injury:
Disconnect electric power to the dryer before servicing.
Never start the dryer with any guards/panels removed.
Whenever ground wires are removed during servicing, these ground wires must be reconnected to ensure that the dryer is properly grounded.
If you are completely confident that you can complete this power cord replacement safely and properly, use the following instructions. Call a service technician if you are unsure of wiring or ground connections.
Unplug your dryer and remove the cover from the terminal block connection on the back of your dryer. (You may also need to remove or loosen the strain relief.) Your old dryer 3 prong power supply cord should have the same white, red and black wires as the new plug. They should be connected on the terminal block. The white wire is the neutral wire. It should be connected on the middle screw of the terminal block. The black and red wires should be connected on each side of the middle white wire. Connect the red and black wires on the same sides as the 3 prong power supply cord (it doesn't matter which side the black and red wires are connected to as long as the white is correctly connected in the middle terminal).
If your 4 wire power supply cord has a ground wire (usually green with a yellow tracer stripe) you will need to connect this wire according to the installation instructions in your owner's manual. I understand that you do not have the owner's manual on this dryer. You may be able to get a copy of the manual by calling the Manage My Home Member Services Team at 1-800-803-6775, between 8 a.m. and 8 p.m. Central Time. Due to the age of the unit, I am not able to access the owner's manual of this dryer online to advise you accurately on the ground wire. I can only give you general information regarding ground wires.
On most Amana dryers: The green power cord ground wire connects to a cabinet ground screw on the dryer. The ground to neutral wire from the lead on top of the terminal block should be connected on the middle terminal along with the white neutral wire from the power cord when connecting a 4 prong plug.
Ground wires must be connected correctly to ensure that the dryer is properly grounded. If you are unable to find proper installation instructions for your dryer, call a service technician to complete the installation.
Read More
expert -
Sears Technician
October 23, 2007