Model #919762000 CRAFTSMAN Power Washer, Gas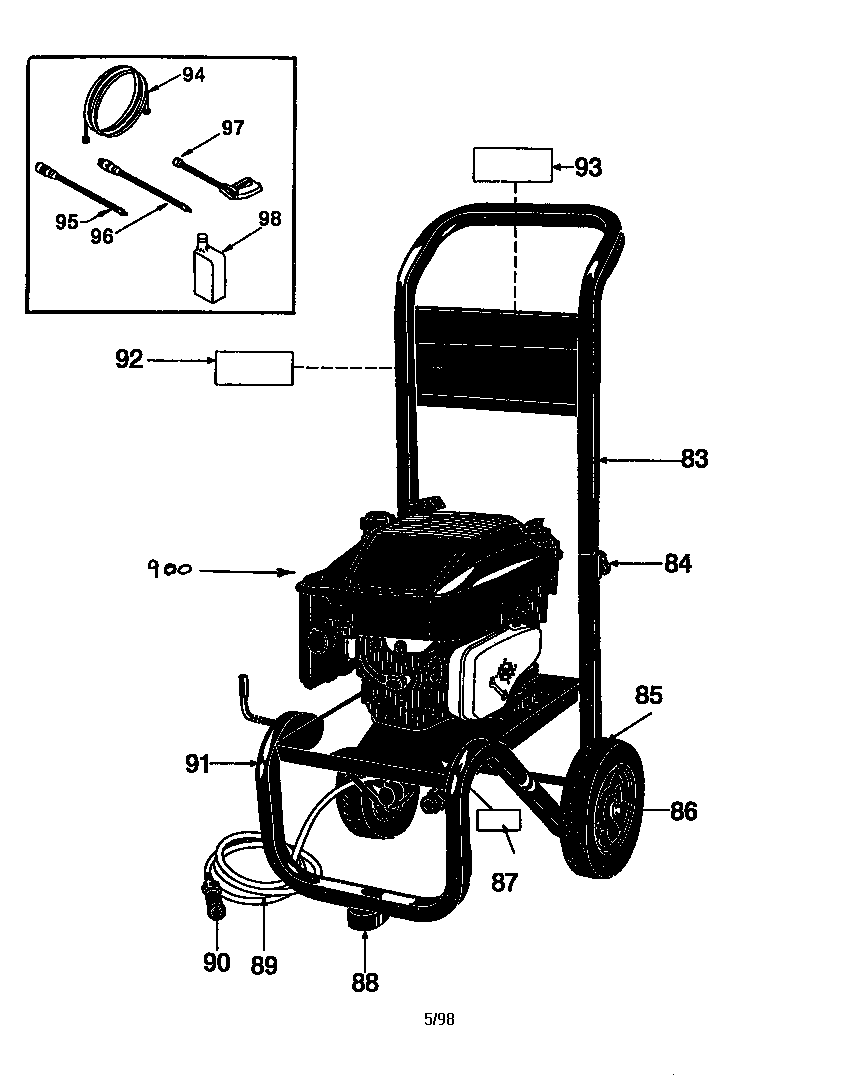 Question and Answers
Q:
how do I change oil in my pressure washer pump
A:
You should not need to change the oil in the pump. It uses 4 oz. of 15W30 synthetic oil. This oil will not break down and need to be changed as a regular maintenance task. If the pump is working properly and producing proper water pressure, I do recommend that you drain and replace the oil.
If you do need to replace the oil for some reason, there is an oil drain plug on the bottom of the pump. The oil can be filled through a plug on the top. You can view the parts list diagram for your pump in the owner's manual. Here is a link for the owner's manual on this pressure washer in case you need it: Owner's Manual .
If you do not feel confident in changing the oil in this pressure washer yourself, then you can have it changed by a Sears technician. Here is a Sears Service link that will provide the nearest drop-off locations: Sears Home Services .
Read More
Lyle W -
Sears Technician
May 21, 2010
Q:
what type of oil and how much is needed for my sears power washer model 919.762000
A:
By your description, the clear and yellow ports should be on the engine. These engines are used for various models and will have 2 ports. The port with the yellow cap is not used. Use the top clear port and this engine uses 30 weight detergent oil. Fill it to the full level on the dip stick (see instructions included).
Normally the pumps use 80w90 weight oil and only 285 ml. If you need more assistance, please resubmit your question, with additional details.
Read More
Scott D -
Sears Technician
May 07, 2010
A:
I CANNOT TELL YOU HOW DISAPPOINTED I AM WITH SEARS. AFTER GETTING THE WRONG ADVICE FROM YOUR SO CALLED "EXPERTS" ON THE AMOUNT OF OIL AND THE PROPER WEIGHT OF OIL TO USE ON MY CRAFTSMAN POWERWASHER, I AM OUT A 6HP TECUMSEH ENGINE. I TOOK THE EXPERT ADVICE (SEE ABOVE) FROM SCOTT D. AND NOW THE ENGINE IS DOWN. BECAUSE OF THE 80W90 WEIGHT OIL AND THE AMOUNT OF IT, THE LOAD WAS TO MUCH ON THE ENGINE AND TOOK THE TEETH OFF THE CAMSHAFT GEAR, (SEE PICTURE). SEARS FEELS THAT THEY SHOULD ONLY HAVE TO PAY 50% OF THE PARTS OR LABOR, NOT BOTH.THE REPAIR QUOTE WAS $115.00 AND THEY FEEL THEY ARE RESPONSIBLE FOR $25.00. THAT IS ABSURD, SINCE THEY ARE THE REASON WHY MY ENGINE WENT DOWN. NEVER BUYING FROM SEARS AGAIN.
Read More
See more answers