Model #917378840 CRAFTSMAN Walk Behind Lawnmower, Gas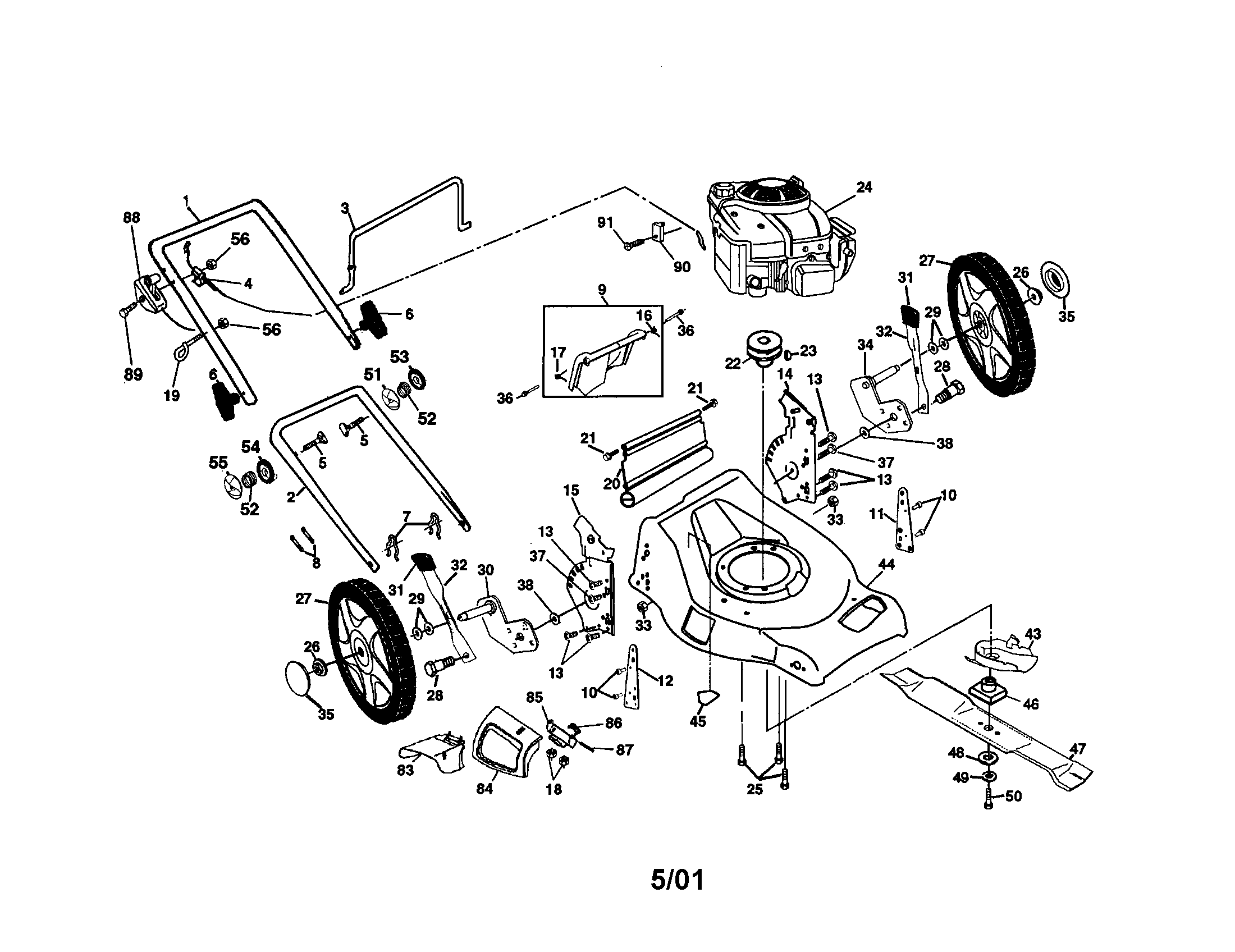 Question and Answers
Q:
How do you you change the spring on the side discharge flap on a Craftsman 917.378840?
A:
It's all a matter of how you position the spring. It should have legs on either end of it. One leg will lay on or connect to the discharge chute and the other leg will have to be pulled up and it will lay against the deck of the mower. That makes the tension that forces the discharge chute down.
Read More
XX Wade_ -
Sears Technician
May 07, 2009
A:
can u clarify more still unsure. i put one end in chute..then how u set tension?
Read More
See more answers
Q:
How do I change the starter cord on my Craftsman lawnmower?
A:
You need to remove the cover from the top of the engine with the grill in it. There are some screws in the front of the cover holding it on.
Drill the four rivets holding the starter to the metal blower housing on the engine. Remove the starter from the blower housing.
Remove the pulley item 1210 from the starter assembly. Be careful as you remove the pulley to not let the spring item 1211 unwind. Remove any rope left in the pulley and attach the end of the starter rope to the pulley.
Run the rope through the opening at the top of the starter, and install the pulley back into position on the starter housing. Rotate the pulley as you reel the rope inside the pulley. This will put the tension in the spring so it will retract the rope.
The spring on the back of the pulley will unwind violently if it comes off the pulley. It can cut you or puncture you if this happens. Be very careful with the spring as you are doing this.
You will need some small bolts and nuts to replace the starter housing to the top of the engine. You can use pop rivets instead of bolts and nuts if you want.
It is easiest and best to replace the starter assembly when the rope breaks. Most times something inside the starter assembly causes the rope to break. The part number for the complete starter assembly is 497680 and the cost is around $40.00.
Read More
Jimmy K -
Sears Technician
October 27, 2009
Q:
How do I change the pull cord on a Craftsman model 917378840 lawnmower?