Model #917353771 CRAFTSMAN Chainsaw, Gas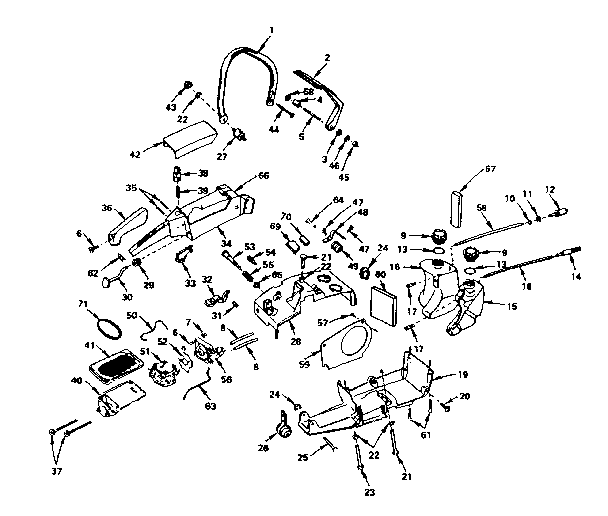 Question and Answers
Q:
Oil to gas mix 917353762 Craftsman Craftsman 3.7a chain saw or 3.7ps chain saw
A:
Thank you for contacting SearsPartsDirect.com with your question about the oil/fuel mixture for your Craftsman Chainsaw. Unfortunately the manual for your particular model is no longer available.

I was able to locate a manual for Craftsman chainsaws that were made before and after your model. I have included the link for you to review the manual online. This will give you the opportunity to review the manual and compare it against your model. If you feel the chainsaws are similar enough, then the fuel to oil ratio is on page 7 of the manual.

Owner's manual for Craftsman 3.7 and 3.7PS Chainsaws models 917.353730, 917.353731, 917.353770 and 917.353771.

I hope this answers your questions. If you need further assistance, please resubmit your question with additional details. Thank you for choosing Sears, we appreciate your business.
Read More
Rachel Morgan -
Sears Technician
February 04, 2014
Q:
need Oregon part number for chainsaw chain and bar for my sears chainsaw
A:
Having to to get the correct parts for an appliance can be quite a challenge. While you are waiting for an expert to reply I recommend on visiting the Sears Parts Direct website were you find a direct contact number to speak with a Sears parts associate. Below I have provided the link.
Read More
Priscilla V -
January 10, 2011
A:
I am unable to locate a bar/chain from Oregon for this saw. It's a pretty old saw and Oregon does not list anything that will go with that model. You may check at a local saw shop to see if they can match something up from another company. It may be possible to have a Poulan bar/chain match up but nothing is listed as doing so.
Thank you for using Manage My Life!
Read More
XX Wade_ -
Sears Technician
January 11, 2011
See more answers
Q:
Chainsaw. How does compression release button function? How do you tighten the chain on the bar? What is the oil/gas mixture? How frequently do you need to push the oil chain button?
A:
Unfortunately, this particular Owner's Manual is no longer available to order or currently available electronically at Manage My Home, but the manual states the fuel should be mixed at a 16 to 1 ratio and as an example shows 1 gallon of gas to 8 ounces oil, or 2 gallons gas to 16 ounces oil, and so on. Use Sears Chainsaw Oil or comparable 2 cycle air-cooled engine oil.
The Decompression Release Button lowers engine compression temporarily to make it easier to pull the start rope during starting.
To start with Decompression
Make sure Saw if fueled and Chain Oil Tank is filled.
Set the Automatic Oiler Metering Knob at 1 1/2 turns open (counterclockwise). Press Manual Oiler Button several times to force oil lubrication onto Bar and Chain.
Move the On-Off switch to ON.
Push Compression Release Button down and back to latch in position.
Pull Choke out completely.
Take proper starting position with saw on the ground (in a debris-free area) right foot in the rear handle and left hand on the front handle.
Pull Starter Handle (rope) slowly until slight resistance is felt (between 2 to 4 inches) then finish the pull sharply. Repeat as necessary holding Starter Handle as the starter recoils to avoid a free "snap" rewind. NOTE: Do not pull Starter Handle more than 2 1/2 feet to avoid rope damage.
When saw fires, push the Choke half-way in to prevent engine "flooding."
When engine starts, squeeze Throttle Lever fully to release the Throttle Detent and Compression Release Button. The saw is now at idle - the chain should not be moving.
Push Choke in as engine warms or as engine begins to labor from over-rich mixture.
To tighten the Chain
Loosen Guide Bar Nuts until they are only hand tight. Those are the two nuts on the side of the engine behind the Chain Shield that hold the Chain Bar to the engine assembly.
Turn Chain Tension Adjusting Screw clockwise to take up tension. That is the screw that sits in a slot with the head facing forward from the Chain Shield beside the blade.
Once the Bar is re-tightened, the bottoms of the Chain Cutters should raise approximately 1/16" to 1/8" above the Guide Bar when lifted at the center of the Guide Bar. The chain should not be looser than the 1/8" spec or be so tight it will not turn smoothly when moved by hand.
To use Oiler
Press the Manual Oiler Pump Button often during the first few minutes of operation even if you are not cutting wood.
The Automatic Oiler Metering Knob setting at 1 1/2 turns open is for green wood; if seasoned hard wood is being cut more oil will be required - turn the knob counterclockwise to increase flow.
As you cut wood, especially if Saw and oil are cold, use the Manual Oiler Button to temporarily increase the amount of oil delivered to the chain. Check oil level as you cut by pressing Manual Oiler Button - if resistance does not change it indicates the Chain Oil Tank needs refilling.
Keep Chain Oil Tank full. You can expect to use almost one tank of chain oil for each tank of engine fuel used.
Read More
HVAC & Fireplace Bucket -
Sears Technician
June 11, 2008