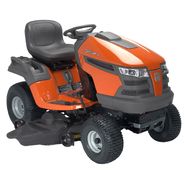 Model #917279200 HUSQVARNA Lawn, Tractor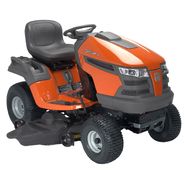 Question and Answers
Q:
I have a Husqvarna Tractor/Model 917.279200. The front link Lift Suspension Pt. 532 19 52-64 has 2 nuts. They don't turn. How do I adjust the mower deck angle on front end height on my garden trac...
A:
The nuts are tightened together to prevent the moving or coming loose. Put a wrench on each nut and hold the inside nut while you loosen the outside nut.
When you are through adjusting the inside nut, run the outside nut down until the nuts touch. Hold the inside nut with a wrench and tighten the outside nut against it. This will lock the nuts in place.
Read More
Jimmy K -
Sears Technician
May 14, 2009
A:
JK: This is exactly what I thought but when the bolt resited turning, I put it in a vice and laid on the opposing bolt with a wrench...to no avail. I then took the rod with attached bolts to the Sears Service Center where they agreed the bolts should turn but a guy bigger and heavier than I was unable to loosen either bolt. So they took my part, returned it, with an order for another and it arrived in the same condition which led us to belive the bolts are preset...But if so why would the factory go to the trouble to thread the shaft or put two bolts on it...and worse how do I now adjust the angle of the mower deck. Guess I could throw ther factory part away and replace with a turnbuckle for adjustment.
Read More
See more answers
Recommended maintenance parts & accessories