Model #9119368413 KENMORE Ranges, Electric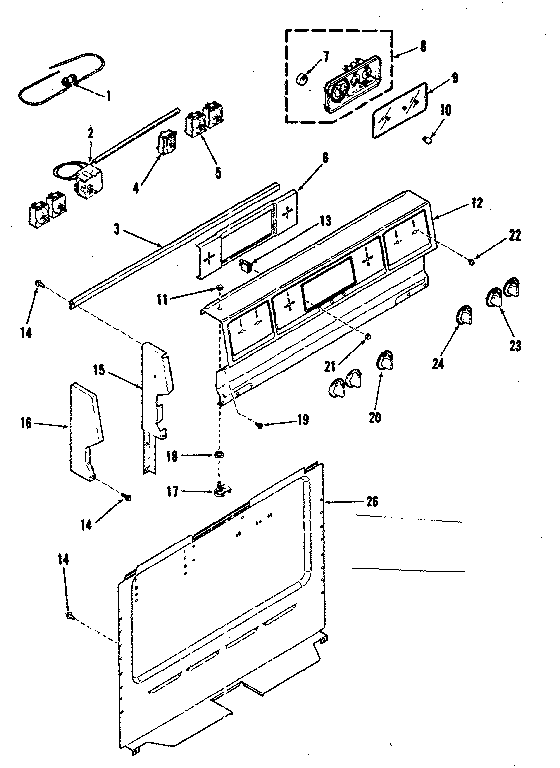 Question and Answers
Q:
Why is red light flashing intermittently even though all surface burners are off on my electric range model 911.9368413?
A:
I assume that you are indicating that the surface element indicator light is the one that is flickering intermittently. This type of failure would be caused by a bad burner infinite switch. A technician would normally unplug the range and then access the infinite switches inside the console. The wire (normally yellow) connected to the "P" connector on each switch would need to be disconnected one at a time and then the range would need to be plugged back in to determine which burner is causing your problem. Once the bad switch is found, this component would need to be replaced.
If you are able to access the infinite switches and determine the failed infinite burner switch in this manner then you may be able fix this problem yourself. Be sure that you unplug the range to disconnect electrical power before accessing these switches in the console. Don't forget to unplug the range after testing a switch and pulling the wire off of the next switch. If you are not completely confident that you can safely conduct this test, I recommend that you have a Sears Service Technician diagnose and repair the range. Here is a link for the Sears Service website: Sears Home Services .
If you do find the faulty infinite burner switch, you can order a replacement switch from the Sears PartsDirect website.
Read More
Lyle W -
Sears Technician
March 16, 2010
Q:
How do I set the clean cycle in my Kenmore electric oven model 911.9368413?
A:
The owner's manual does not appear to be available either online or in hard copy print for this range. I see that this range appears to have an analog clock. The clock needs to be working in order for you to start the self clean cycle. Here is a procedure that is used for placing the oven in a self clean cycle for most of these types of ranges:
Set the start and end times on the small clock dials to the right of the main clock. The clean cycle should last between 2 and 4 hours on most ranges.
Set the oven selector knob to the SELF CLEAN position.
You may also have a temperature setting that need to be moved to the clean temperature setting.
Slide the oven door locking lever to the right to lock the oven door.
The oven will start the self clean cycle when the main clock hits the start time set on the start dial. It will end when the end time on the second small dial is reached.
The oven door will not be able to be unlocked until the range cools down.
This information may help you set the self clean cycle. If you still have trouble and need more help, resubmit your question with additional details.
Read More
Lyle W -
Sears Technician
October 31, 2009