Model #831298072 PROFORM Treadmill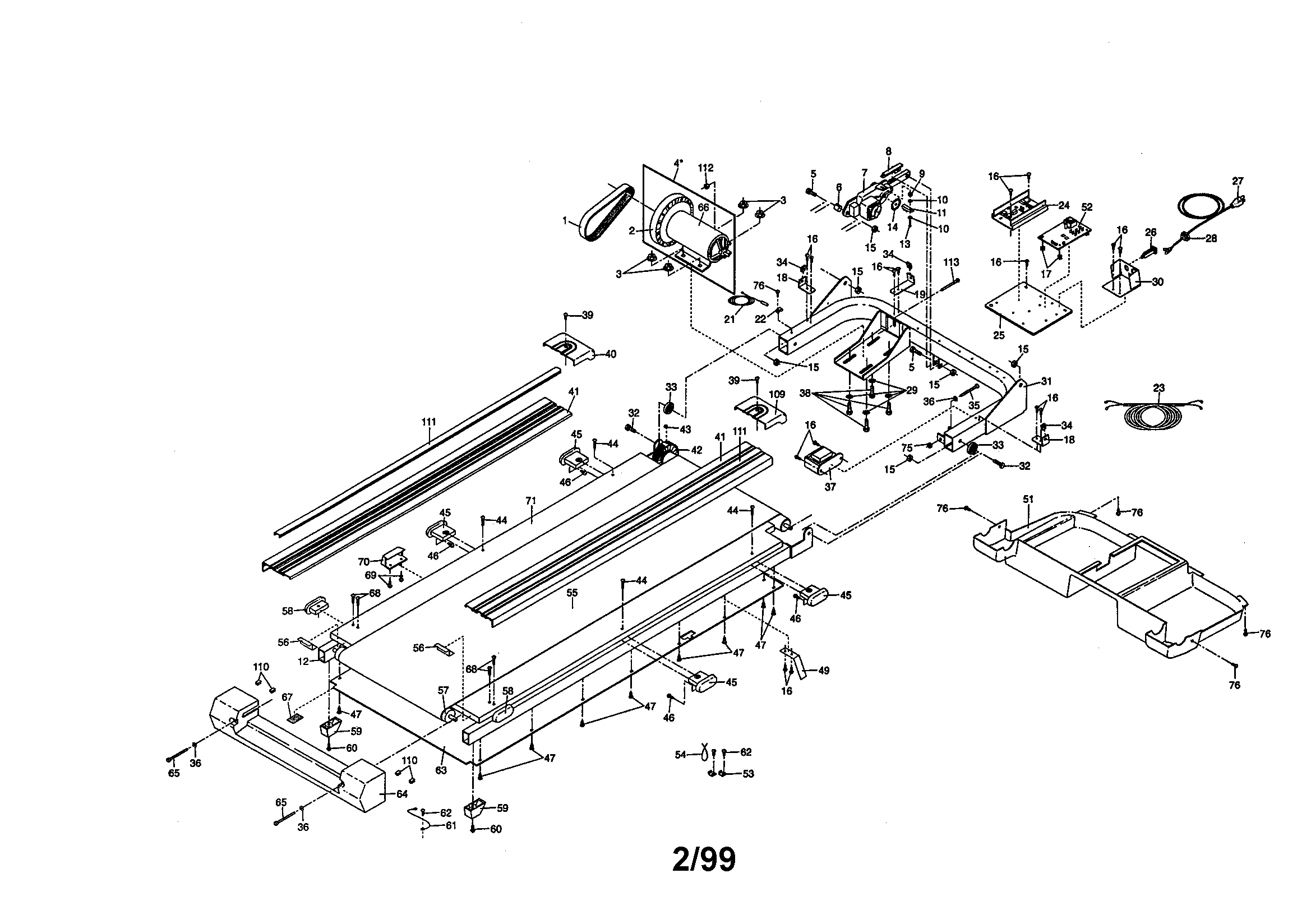 Question and Answers
Q:
I have a Proform L18, model 831 298072, treadmill. Is there something I can test at home before asking for a tech to come out here?
A:
I am sending you a copy of the wiring schematic that should be inside an envelope underneath the hood of the treadmill. When the motor doesn't start this is what must be done to locate the problem.
I am sending you a voltage diagram of your treadmill. If you are not completely comfortable making voltage checks please call and schedule a technician to diagnose and repair the treadmill. Since the console lights up and the incline works your power to the treadmill is ok. The only way to tell where the problem is, is to check the voltage to the various components.
First Test for 110-120 volts ac at terminals AC1 and AC2 on the motor controller with the key inserted. If you don't have this voltage the key switch is bad in the console. The console is no longer available. You can take the old console to a Sears service center and they will send it in to be rebuilt.
If you have the correct voltage at AC1 and AC2, check the voltages described for L, W, and H on the controller. If the voltage is not there, the controller is bad.
Read More
Jimmy K -
Sears Technician
Q:
Can I center the walk belt myself?
A:
Provided that nothing is damaged, the walk belt can easily be adjusted to get it centered again.
To center a walk belt running too far to the right do the following:
Remove the safety key and unplug the treadmill
Look at the back edge of the walk belt and you will see an Allen bolt on the end of each side rail (just to either side of the walk belt) these are the rear roller adjustment bolts
Use an Allen wrench to turn the left rear roller adjustment bolt counterclockwise 1/4 of a turn
turn the right roller adjuster clockwise 1/4 turn
Plug in the treadmill, insert the safety key and run the treadmill for a few minutes
If the belt is still too far to the right then do that same procedure again. If it is too far to the left now, then turn the adjust bolt 1/8 turn each in the opposite directions of those listed above. The goal is to get the belt consistently running as close to center as possible. Provided you use small increments and always turn each screw the same amount the overall tension of the belt will remain okay and the belt should be simple to center.
There are more details and illustrations to help in your owner's manual. Unfortunately, this particular manual is not currently available electronically at Manage My Home but you can view the manual on the manufacturer's site, which is at
Read More
expert -
Sears Technician
October 25, 2007
Recommended maintenance parts & accessories