Model #831297190 LIFESTYLER Treadmill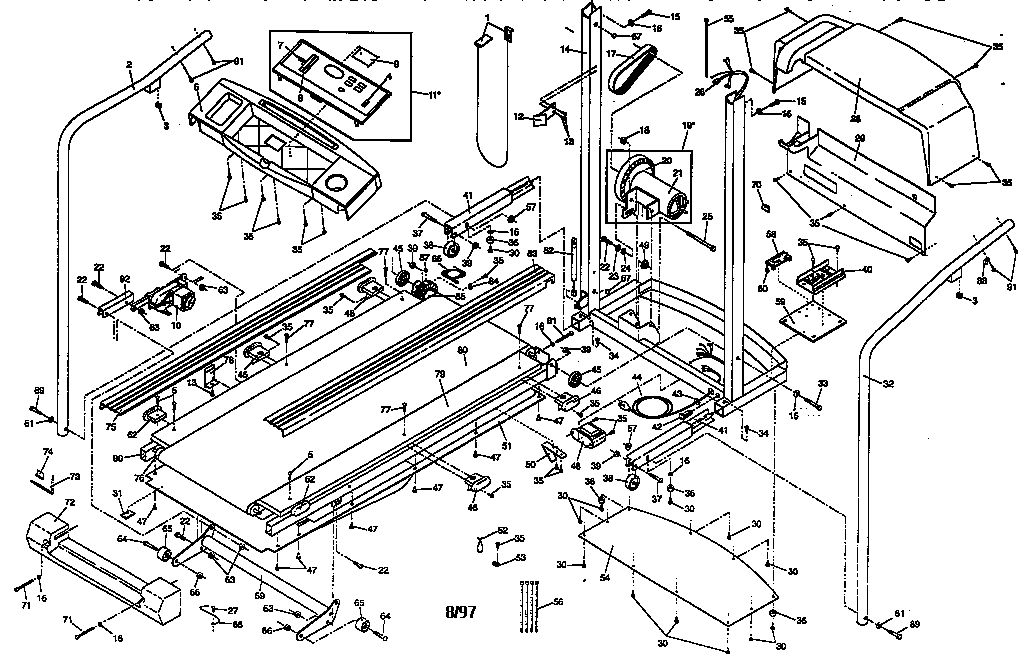 Question and Answers
Q:
How do I replace the walking belt on my Expanse treadmill model 831.297190?
A:
Even though you are mechanically inclined, this repair is fairly complicated and there are no written instructions or procedures. A service technician will rely on his experience and mechanical skills to remove the belt. The basic procedure involves these steps:
Unplug the treadmill to disconnect electrical power.
You already have removed the back end cap off. This would have been a step.
Remove the front hood.
Remove the drive belt.
Remove the foot rails.
Remove the walking board.
Remove the adjusting bolts for rear roller.
Remove the front and rear rollers.
Slide the walking belt off of the right side.
Install the new walking belt.
Reverse the procedure to reassemble the treadmill.
These general steps are all that I can offer regarding this repair. If you examine your treadmill and you are confident that you can properly replace the belt then should proceed. If you have any uncertainty about properly completing this belt replacement then I recommend that you have a technician visit your home and replace the belt. If you observe the technician replacing the belt, you may be able to replace the belt if the need arises in the future.
Here is a link for the Sears Service website in case you need it: Sears Home Services .
Read More
Lyle W -
Sears Technician
February 25, 2010
A:
Appreciate the information, it was helpful. Important fact, after receiving the treadmill belt and opening the box there were numerous instruction pamplets on how to replace the belt. I am confident that after successfully dismanteling and installing successfully the walking tread for the treadmill that these instruction jpamplets should be available to be email. A caveot stating they may not be exactly your machine but may aid in you endeavors to do it yourself, however if you cannot, we would recommend hiring one of our technicians to complete. Thanks for the help and I am walking again. Steve
Read More
See more answers
Q:
How many horsepower does the Lifestyler Expanse 850, model 831.297190 treadmill have? It's not in the manual.
A:
To get the horsepower of the drive motor on your treadmill, you will need to remove the motor hood on the front of the treadmill. The hood has 6 screws around it that have to be removed and the hood will lift off.
Disconnect the power to the treadmill before you lift the hood off to be safe. The horsepower of the motor is on a tag on the motor.
Read More
Jimmy K -
Sears Technician
March 13, 2009
Recommended maintenance parts & accessories