Model #80002 CRAFTSMAN Grass Catcher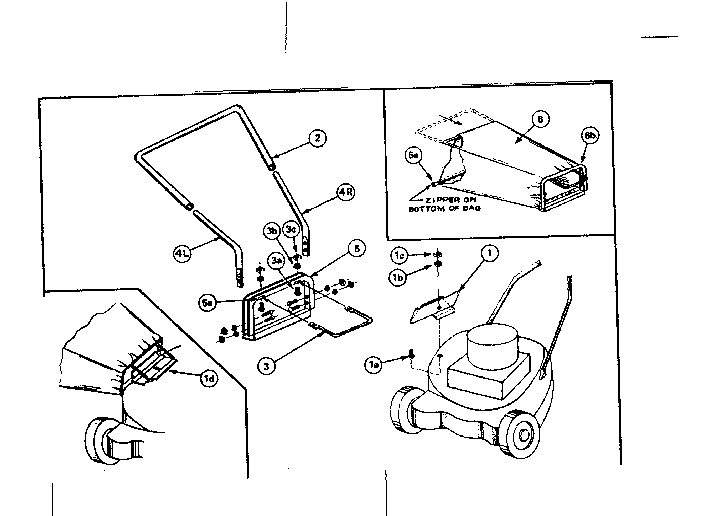 Question and Answers
Q:
The safety latch on the upper bowl cover has broken. How do I get parts?
A:
Having an appliance that has a broken part can be a hassle. While you are waiting for your expert answer, since the appliance is under warranty I am adding a link below in where you can order and also call the number on the site to see if your parts are covered. I hope my link is useful.
Read More
Joseph P. -
September 13, 2011
A:
That bowl is not available from the Sears PartsDirect source according to the information that I see. Since the food processor is still under warranty, I recommend that you return it to your local Sears store along with your receipt. It should be replaced according to the guidelines of the warranty in your owner's manual. Refer to your owner's manual for specific details of that warranty. The entire food processor is normally replaced instead of replacing parts on that item when it is covered by the warranty.
If you need more help, reply with additional details and we will try to assist you further.
Read More
Lyle W -
Sears Technician
September 15, 2011
See more answers
Q:
How do I attach the slice/shred disc on the kenmore food processor model number 100.80002. I have tried every way to fit the attachment doesn't fit.
A:
It is easy to have issues with fitting the disc's on food processors until you become familiar with the machine. I located and attached a previous expert post that may help and also added the owner's manual. Hope this helps you enjoy your new processor.
Read More
Barbara H. -
August 07, 2011
A:
When you are using the food processor to slice, put the chopper blade in upside down and put the disc on top of the chopper.
The instructions for installing the disc and chopper blades are in the owners manual.
To view the complete manual please click on the link below:
Owners Manual The information needed is on page 8.
Read More
Luis L -
Sears Technician
August 08, 2011
See more answers
A:
We all rely on our food processors today. I for one do not want to go back to slicing and chopping. I searched for your question in the Manage My Life website and found a similar question like the one you posted. I attached the link below. Hope this helps!
Read More
Dezeray S -
November 24, 2010
A:
It sounds like either the motor has seized or the start capacitor has failed. The problem we run into with small appliances is that the manufacturer considers them to be "non-serviceable" so there are no replacement parts available for them.
Unplug the machine and see if you can spin the motor manually (by hand). If you can, then the motor is not seized up and the problem will almost certainly be the start capacitor. You will need to open the appliance up to access the capacitor. You can take the capacitor out (it will normally resemble a battery in size/shape) and see if you can find one at a local electronics retailer.
If you're not real sure about taking the machine apart yourself you may be able to find a local shop that would be willing to take care of it for you. Oddly enough, I have found a shop in my home city that is actually an automobile starter/alternator shop that will work on small electric motors (like this one) for me.
It may be cheaper to replace the appliance than to fix it. I would check prices before just to be sure.
Thank you for using Manage My Life!
Read More
XX Wade_ -
Sears Technician
November 24, 2010
See more answers