Model #3699 PEERLESS Faucet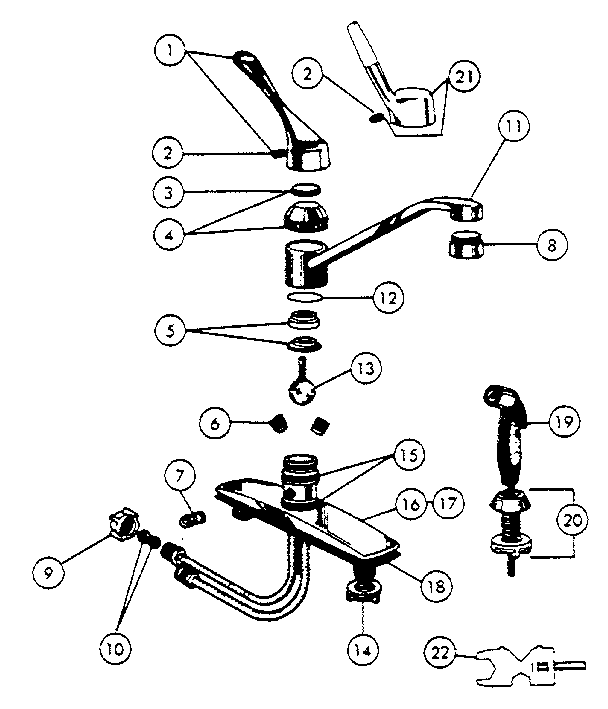 Question and Answers
Q:
my utility pump is not pumping water
A:
Having your appliance not working correctly can be really upsetting. While you are waiting on an expert to answer your question, a suggestion I have is to set service with a Sears technician so they can fix this right away. Enjoy your day!
Read More
Dezeray S -
September 05, 2011
A:
Thank you for your question on the utility pump not working.
If this pump is not pumping water and you have properly primed the pump before turning it on then you may have a diffuser to impeller area worn and the pump is not able to move water.
The diffuser is not suppose to move, but the center of the diffuser mates with the front nose of the impeller and if that is worn the pump will not work.
I would suggest that you replace the diffuser and the impeller and the water seal kit at the same time.
42 390 101P2840 VENTURA 1 36.99 36.99 390260291 - Substituted for 42 390 742S0140 - FACT BIN = FIDEL, QTY = 0 42 390 731S2260 IMPELLER 1 19.19 19.19 390260291 - FACT BIN = FIDEL, QTY = 0 42 390 ZBR00010 SHAFT SEAL 1 12.39 12.39 390260291 - FACT BIN = FIDEL, QTY = 0
You can order these from Sears Parts Direct .
These are the parts of the pump that should fix the problem.
I have given you an image of the parts breakdown and the part are 7/8/9 on the picture.
If you have been pump some water with debris in it make sure the impellar is clean in the channels.
Please let me know what you find.
Sam A.
Read More
Sam A -
Sears Technician
September 07, 2011
See more answers