Model #358351240 CRAFTSMAN Chainsaw, Gas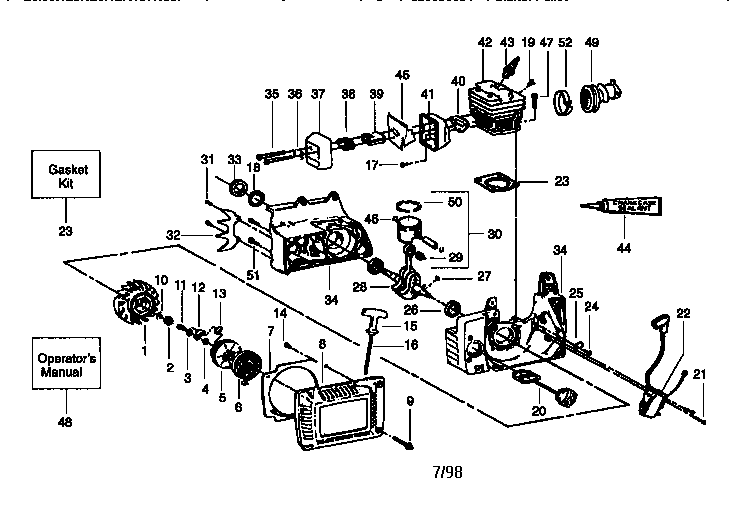 Question and Answers
Q:
Why won't my chainsaw stay running?
A:
Some older models were prone to having the fuel line split which let the fuel filter fall off. Your saw is a newer model than those so it should be okay but if this did happen then debris could have pulled into the carburetor, blocking the fuel flow once the choke is off. Or damage to the fuel line itself could be allowing too much air and not enough fuel to be picked up.
There is a fuel line kit available that you could order through your Sears Store or Sears.Com using the part number 71.358. 530069910. The total cut length of the fuel line installed should be 8 to 8.3 inches with 1.5 to 1.75 inches of the line extending from the top of the tank to the carburetor. A replacement fuel filter/pick-up can be ordered under the part number 71.358. 530091878.
If the the fuel pick-up and lines are okay there could a number of other things happening so you will need to go back to basic troubleshooting. I included links below with some additional troubleshooting information that should help.
The line with a filter that you found could be part of the fuel delivery system but with a line missing altogether it is doubtful the saw would run even using the choke. However, if it were a feed line from the Chain Oil container to the chain itself it would explain why oil now pours straight through.
Unfortunately the owner's manual for this model is not available electronically but you can still order a replacement copy through your Sears Store or Sears.Com using the part number 71.358. 530083882. There is no detailed service manual specific to this model that I know of but there are many books out there that deal with chainsaws in general and any of those should help guide you.
Read More
expert -
Sears Technician
October 23, 2007