Model #153316460 KENMORE Water heater, Electric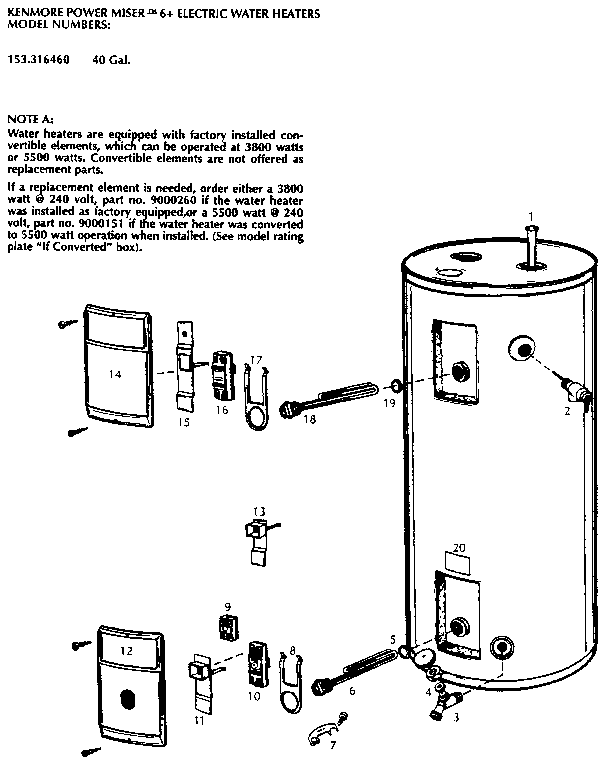 Question and Answers
Q:
I have a sears hot water heater. It is only getting power to lower element. Should I replace upper thermostat ?
A:
I understand that your water heater is only powering your lower element but not the top. I have taken some time to research your question here on the Manage My Life website and I was able to locate a similar question to yours. I attached the link below for you to view while you are waiting on your response from an expert. I hope the link that I provided gets you one step closer to repairing your water heater. Have a great day.
Read More
A:
I know it's frustrating when the hot water heater stops working. The information you have received from Alina is correct. Both elements will not come on at the same time. They will always alternate. Now, if you replaced both elements, did you allow the tank to fill with water completely, before turning the power back on? If the upper element is not completely submerged with water before heating, it will overheat and burn out. If it was submerged and you are having the same problem, the thermostats and elements will again need to be checked. First disconnect power to the unit and then disconnect the wires from the elements. Now, check the resistance of both elements. If you get a reading, the elements will be ok. If you get no reading, the element will need to be replaced.
To check the thermostats, first run some water from the faucet until it turns cool. Now, leave the elements disconnected and place your meter leads on the thermostat terminals 1 & 2. The meter should swing to the right. If it does not, the thermostat will need to be replaced. I'm attaching some pictures with instructions for checking the thermostats below. I hope this will help you. If you would like more assistance, any additional details will be helpful and I will be glad to assist you further.
Read More
Scott D -
Sears Technician
July 11, 2011
See more answers