Model #153316354 KENMORE Water heater, Electric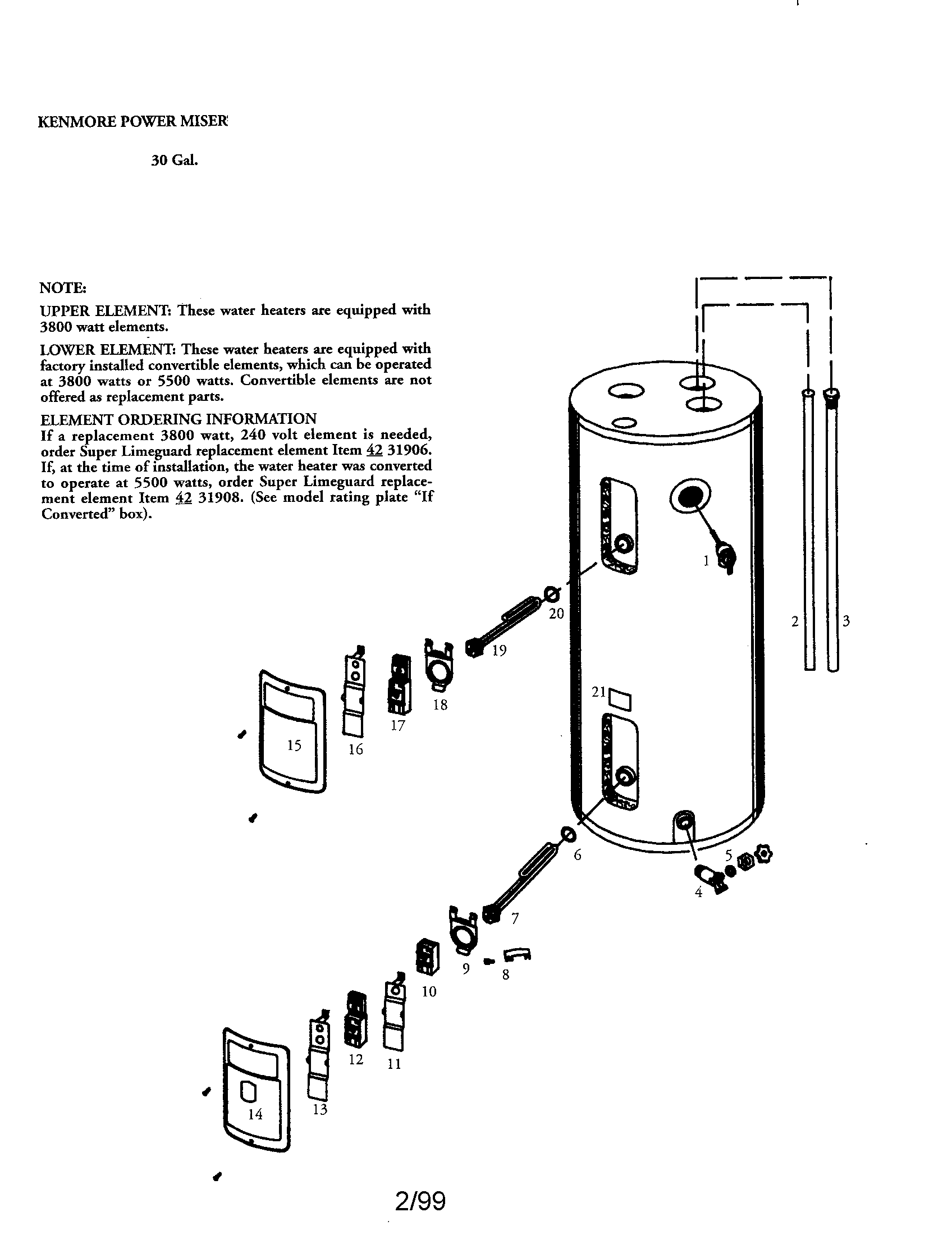 Question and Answers
Q:
How can I install a different anode rod in my Kenmore electric water heater model 153.316354?
A:
Replacing the anode rod may help you eliminate the smelly water problem. The part number for a less reactive anode rod is 9001453. You can order this rod from the Sears PartsDirect website.
The anode rod is threaded into the top of the water heater. It is shown as Key 3 in the parts image below.
In addition to changing the anode rod, you will normally need to treat the water heater and hot water piping with chlorine. Household chlorine bleach (such as Clorox liquid bleach) is normally used for this process. After removing the existing anode rod, bleach should be added to the water heater tank at a ratio of 1 cup for every 5 gallons of water heater capacity. You can pour the bleach directly into the anode opening in the tank. Install the new anode and refill the tank completely. Turn on each hot water faucet slowly until chlorine can be detected at each hot water tap. Turn off all of the taps and let the water in the pipes stand for 30 minutes. You must then thoroughly flush the complete house hot water piping system at each hot water faucet to eliminate the chlorine.
This process should help you resolve your smelly water problem. If the problem returns, you may need to repeat the chlorine treatment periodically or consider other options for permanently resolving the problem.
Read More
Mike We.- Personal Solutions Manager -
Sears Technician
June 06, 2009
Q:
Is my new pressure release valve faulty on my water heater?
A:
You did not indicate if the new pressure release valve leaked immediately upon turning the water back on or after you tested it by opening it up.
If the water is not extremely hot the pressure release valve is either faulty or there is a piece of debris stuck between the seating surfaces of the valve. I would try open and letting it flip closes several times and it may stop leaking. If it will not seat and quit leaking I would replace the faulty pressure release valve.
Read More
Joey S -
Sears Technician
November 13, 2008
Recommended maintenance parts & accessories