Model #11097561100 SEARS Laundry Appliances Division (26)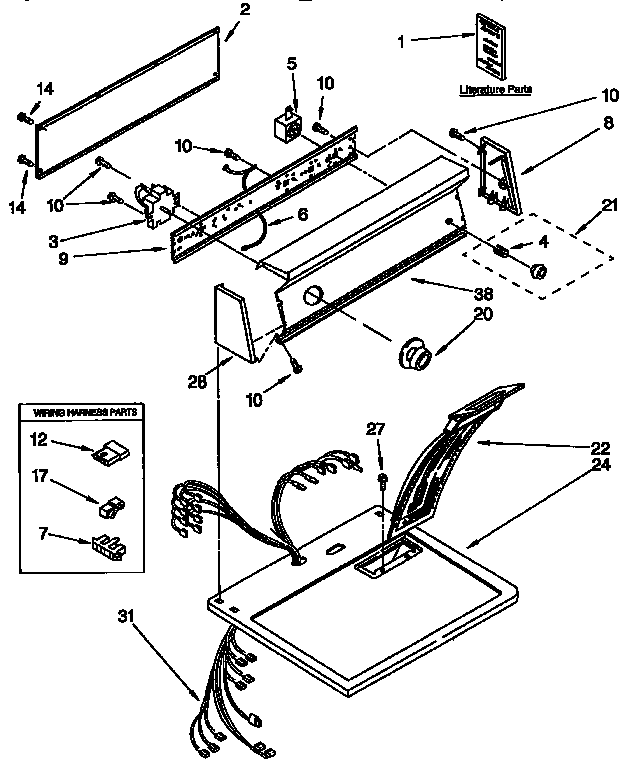 Question and Answers
Q:
What is wrong and what should I check on a Kenmore model 110.97561100 gas dryer that runs but doesn't heat?
A:
If a gas dryer will run but it doesn't heat the most likely cause is a bad thermal fuse and I would recommend you check this first.
It is located on the blower exhaust in the rear of the dryer behind the cover you removed earlier. See the image below for help with this. Remember to unplug the dryer first.
The fuse can be checked for continuity across the terminals if you have access to a volt/ohm meter and are comfortable using it. If the circuit shows open then the fuse is bad. If you don't have a meter or know how to use one there is another way to check if the thermal fuse is the cause of the no heat problem.
With the dryer unplugged remove the two wires on the thermal fuse and join (jump) them together with a small piece of wire. Put a little electrical tape around the connection and don't let it touch any metal. Then carefully plug the dryer in and see if it will heat. If it does have heats then replace the fuse. Don't continue to use the dryer to catch up on laundry with the fuse bypassed.
The 2nd image shows how to remove the front panel to access the valve if needed.
I hope this information is helpful to you but check the thermal fuse first and submit another question with any additional details for further assistance.
Read More
Fred M -
Sears Technician
November 21, 2009
Recommended maintenance parts & accessories